The community has rallied around the family of Peter Callagher, one of two pilots killed in a plane crash on Saturday night.
The 27-year-old was just a few flights away from fulfilling his dream of becoming a commercial airline pilot, when the small plane he was in crashed over the Kaimanawa Ranges.
Peter and fellow pilot and flying instructor Zakir Parkar were on a Diamond DA42 twin engine plane flying from Palmerston North to Ardmore Airport via Taupo when it lost contact at around 9pm.
Their aircraft was reported overdue and was later discovered at around 11am on Sunday morning.
Tributes for Peter, a former Howick College student, have remembered him as a passionate, kind and intelligent young man who never did anything by halves.
Peter's younger sister Stephanie Callagher says he was loved by many and those who knew him were the lucky ones.
A tribute to my brother
"In the days since Peter's passing, we have been inundated with many beautiful words and gestures. For this, I would like to express my heartfelt appreciation from both myself and my family. The kindness of this community has truly moved me, and I know that Peter would have been moved as well. There have been many tributes to Peter – speaking to his incredible achievements representing our country as an athlete, or his incredible passion that he pursued in his flying. These have been a joy and a comfort for my family to read. This is why today I want to share with you a different Peter- not only an athlete and a pilot, but a brother, a son and a friend.
A brother to Stephanie and Sean, and a son to Julie and Craig, Peter was the middle child of a closely-knit family. A charismatic young man, Peter easily gained the respect and friendship of those around him.
He was the definition of a vibrant soul; his creativity was endless. Whether it was his drawing, his painting or playing his guitar, Peter was incredibly gifted.
The only thing Peter loved more than collecting knowledge was sharing it. This, I'm sure, would resound with the many flight students Peter mentored. He would spend hours watching documentaries, and then would happily trap you into a conversation to teach you all about it. Any innocent question would often result in a half hour seminar – his whiteboard of diagrams included.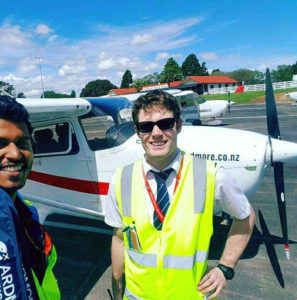 Peter picked up new hobbies seemingly on a daily basis, and at each, he excelled. His latest pursuit being mountain biking, adding to a long list including paintball, water sports, Christmas light decorating, gymnastics, hockey and so, so much more. Whatever goal Peter set his sights on, he would accomplish. His drive to achieve was only matched by his work ethic; Peter was by far the hardest worker I have ever met.
In the end, the best way to summarise my big brother would be to tell you that he was kind. He was loved and respected by those he met and he lived to make others laugh. It was a privilege to call him my brother and my friend. Words will never express our loss, but in knowing him we gained so much. I am so proud to be your sister.
Stephanie Callagher (Peter's sister)