This is my final column for 2019 and I wanted to take this opportunity to wish you all a very Merry Christmas from my family to yours.
Christmas is always a special time of the year as it gives us a chance to take a breather, reflect on the year that has been, and refresh ourselves for the year to come.
For me, this means spending some quality time with my family. Next year is going to be busy, with an important election due at some point through the year.
As an MP it can be difficult juggling my responsibilities as your representative in Parliament with my family life at home but the support I receive from the local community makes it a lot easier.
2019 has been an enjoyable year in Pakuranga and I have loved every minute serving as your MP. We are lucky to live in one of the best places in New Zealand and I am honoured to represent you in Parliament.
I have been all over the electorate visiting schools, businesses, and community groups, volunteering for local charities, knocking on your doors, and meeting you on the streets.
You are never shy to give me your feedback on how I'm doing and this is something I value highly about the people who live here. This community truly cares about what is best for our area and is committed to protecting what we have and improving what's needed.
As we head into the summer months, I know many of you will be heading away to enjoy some time outside of Pakuranga. I want to urge you all to please be safe wherever you are and be patient if travelling on the busy rural roads – it's okay to take 30 minutes longer to get where you're going!
Thank you all for your support this year. Again, my best wishes to you and your family for Christmas and have a relaxing and safe summer. I'll see you in 2020!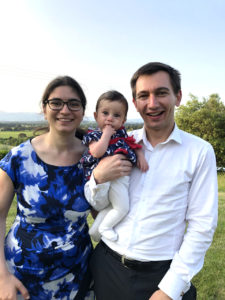 Simeon, Rebecca, and Anna Brown
Simeon Brown, MP for Pakuranga