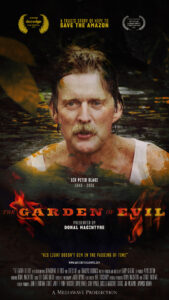 Following the success of the America's Cup events and sailing charters on Sir Peter Blake's Steinlager 2 late summer, Whitford-based e-commerce platform Share Boating (for marine charters, brokerage and training serving the wider community) has continued to forge ahead and engage with the wider community.
Collaborating with film maker Larry Keating, Wayne Huang's (Rear Commodore of Power at Bucklands Beach Yacht Club and Cultural Ambassador for the Doc Edge Festival) team has supported one of New Zealand's noted documentary films producers in the lead up to the World Premiere of his film The Garden of Evil in the Doc Edge Festival Saturday June 12, at the Civic Theatre. 6:45pm screen time.
From intimate observational footage to epic sweeping landscapes, the cinematography for The Garden of Evil brings to life the investigation into the murder of environmentalist Sir Peter Blake in 2001, and a near death attack on eco-warrior Captain Pete Bethune in Brazil sixteen years later.
Taking the viewer on a journey from the dense jungles and lands of Amazonian tribes, to the streets of Brazil and deep inside the country's criminal justice systems, the cinematography captures the beauty and destruction of the Amazon and the life and death stakes for those trying to protect the region.
The Garden of Evil is the winner of the Doc Edge Festival Award for Best New Zealand Cinematography.
The Doc Edge annual Festival is the premiere Australasian International Documentary Film Festival which has been held in New Zealand for the last 16 years. Doc Edge features, fosters and celebrates the art of documentary film making, from young local producers to well respected international producers.
Huang and his team at Share Boating have facilitated sponsorship from both local and international companies for The Garden of Evil World Premiere and bought 130 tickets for the wider community, representing nearly a 20 per cent increase in ticket sales.
"Awareness of these landmark arts and culture events in New Zealand is essential in the wider ethnic community as they embrace the New Zealand way of life", says Huang.
"Following the role of Sir Peter Blake, the essence of a true New Zealander, really makes a difference for new Kiwis to aspire to great things," Huang adds.
The Doc Edge Festival features 83 of the world's best films from the past year in 11 categories, with some World Premieres presented in theatres in Auckland from June 3 – 13 and Wellington from June 17 – 27, 2021. All films are available online after screening until 11 July 2021.
Tickets to the World Premiere of The Garden of Evil are available from Share Boating at info@seenet.co.nz.