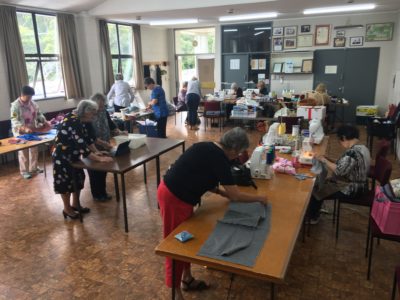 The Highland Park Sewing Group are a voluntary non-profit organisation who provide infant and children's clothing made or repaired by a regular group of volunteers every Thursday morning at the Highland Park St John's Ambulance Hall.
These items are passed on weekly to Middlemore Kidz First, the Anglican Trust and Dingwall Trust.
The group was started many years ago by Gretl Bass, QSM, to help keep the newborn babies of the under-privileged at Middlemore Hospital's Kidz First adequately clothed in the first few months of their lives.
To start with, Gretl and friends mended and laundered donated clothes. This system changed in recent years, as the hospital will now only allow new garments to be given to mothers in their care.
Farmers department store then came on board and donated material which was adequate for a few years. Unfortunately somewhere along the way, Farmers changed their operation and can no longer supply the Highland Park Sewing Group with an adequate amount of material.
While the sewing group do have two or three suppliers, they are always on the lookout to locate a supplier of material at an affordable price for the cause. Yards of fabric and the associated haberdashery needed to complete new garments for Kidz First at Middlemore Hospital also needs to be purchased.
The sewing group welcomes any fabric donation which may be bought in by the public, along with monetary donations to help fund the necessary purchases to create these garments.
They are grateful for having received a generous donation of $500 from Jack Canty's Lodge, previously known as Howick Buffalo Lodge, to assist with the next purchase.
Last year their sister group, The Friendly Teddy Bears, who meet on Friday mornings to make teddies for Highland Park St John's Ambulance for their young patients, was supported by the Jack Canty Lodge.
The Highland Park Sewing Group meets on a Thursday at St John's Ambulance Hall on Pakuranga Road from 9.30am-1pm and would love to see more volunteers to the groups. Also, any contributions would be greatly appreciated.