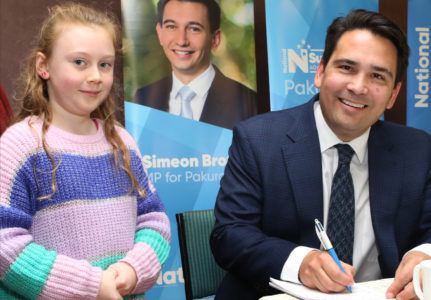 Never has there been such a huge turnout for National Party leader Simon Bridges in Howick.
Parking was at a premium as were seats at the SuperBlues meeting at the Howick Bowling Club where local MP Simeon Brown introduced Bridges as "NZ's next prime minister".
Rapturous applause welcomed the opposition leader.
This time Bridges seems more confident and self-assured as he spoke of the controversial petrol tax and called Prime Minister Jacinda Ardern "fleecer-in-chief".
He had everyone's attention as he spoke of the Government putting a stop to all roading projects "and not started anything new".
"Right now they have stopped the East-West project and yet they have increased fuel taxes by 12c. Sadly they are not even spending our tax money. So where is it going?" Bridges asked.
"They don't know where they are going-if they are Arthur or Martha.
"This government has damaged the international education sector which is a $5 billion sector. Our business confidence is at an all time low.
"The two biggest issues that have taken a hit is our economy and health sector.
"The DHB (District Health Board) deficits are at an all time low. This is a first in my lifetime that elective surgeries have gone down in numbers. Sadly, the Government got rid of all performance targets and no one is driving results or is accountable.
"Unfortunately $300 million didn't go to the health sector but to Shane Jones and Winston Peters," he said.
"There is an increase of 15,500 people on dole."
Later in the day after the National Party leader had visited GMP Pharmaceuticals, Macleans College, Greater East Tamaki Business Association, Pakuranga Retirement Village, HMI Technologies and the Citizen's Advice Bureau— he looked a little worn out but insisted he was "fuelled by life".
There was a big coterie of National Party supporters waiting to receive him at Botany Town Centre. In between a maze of handshakes and reaching out to party workers, shop owners and locals, he grabbed a quick cuppa with the <ITALICS>Times.
Talking about the Botany electorate and the huge interest in terms of a safe National seat that is up for grabs next year, he said that the potential candidates will be filtered down to five or less.
With high profile names like Air New Zealand chief Christopher Luxor's name popping up, he reasoned, "With Auckland having a third of our population, there are only a couple of seats up for grabs and a seat like that demands strong contenders.
"The National membership in Botany has gone through the roof and there is no doubt the there will be a robust, strong contest—there are several high calibre candidates with a very strong track record interested in the seat," he said.
When asked if he is sorry about the fall out with former mate and National Party MP Jami-Lee Ross (now an independent MP for Botany after a public fall-out), he admitted, "It's highly regrettable but we have to move on. I am focused on the future and it's great that we have a strong voice in Botany."
Bridges reveals that the last month or two has been a real mood-changer and as the gloss is wearing off, people are getting tired of the present Government.
"Yes, I definitely feel very confident and positive now," said Bridges.