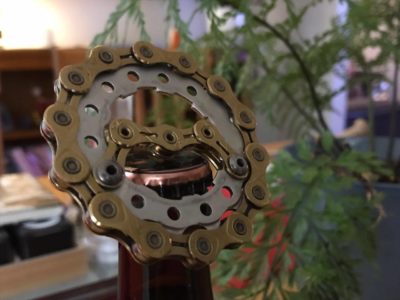 BY NATHAN MORTON
Young aspiring businessmen and women are being put to the test in this year's Young Enterprise Scheme and Pakuranga College is one of many schools showcasing the skills of their Year 13 students.
The scheme allows upcoming entrepreneurs to start up and run their own companies, create real business and marketing plans, pitch for investment to a panel of judges and make real profit or loss.
Nine Pakuranga College teams are taking part in the competition, making business opportunities out of fitness, gadgets, home decor and clothing and giving students the chance to enhance their skills in the marketplace.
ScrapCycle is one of the teams taking part, made up of five Year 13 students with a business plan to recycle metal wastage from bikes into designer, industrial-style homewares.
The first items in their range to go into production are clocks and bottle openers, which they hope will appeal to cycling enthusiasts as well as people with an eye for something a bit different.
The group recently reached an agreement with a number of local bicycle stores, who have agreed to supply them with old bicycle parts otherwise destined for the landfill.
CEO Rishad Manecksha said it's a "win-win" situation for the group, made up of students Kelvin Mao, Barrett Caton, Josh Tayag and Eason Zhang.
The 17-year-old entrepreneur was recently given the opportunity, along with Kelvin, to immerse themselves in the world of business by attending Massey University's Business Boot Camp.
The pair were chosen as two of the top 70 business students nationwide to attend, and Rishad went on to be awarded 'Most Likely to Succeed' at the event.
The most rewarding aspect, said Rishad, was "getting an inside look at a real business, understanding what opportunities New Zealand presents to aspiring businesspeople and meeting new people".
Other Pakuranga College groups taking part in the scheme include Kleider (sustainable apparel), OTL (sustainable apparel), Unbox (mystery gift boxes), Cooking with Cultures (recipe books), Box Fitness (personalised workout plan), Green Evolution (customised terrarium), Bloomers (herb and flower-growing kits) and AME (smart phone attachments).