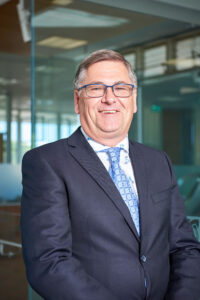 Saint Kentigern College's principal Russell Brooke has resigned.
The move was confirmed to the independent school community via an email letter yesterday and follows a period of special leave which commenced in early August this year.
Yesterday's letter, penned by Saint Kentigern Trust Board chair Mark Conelly, says the resignation takes effect from October 31, 2021, "following a period of leave that will continue until his last day with us".
Brooke has been with Saint Kentigern in Pakuranga since March 2020, starting just before the Covid-19 lockdown.
"The Trust Board acknowledges Mr Brooke for his service over this difficult period of time," Conelly said in the letter.
"As previously advised, we were pleased that Dr Duncan McQueen has been able to take on the role of acting principal during Mr Brooke's leave.
"Mr McQueen has agreed to remain in this role while the Trust Board undertakes a thorough recruitment process for the College principal. The board sincerely appreciates his commitment to Saint Kentigern and the leadership Mr McQueen has shown."
McQueen was formerly principal of the middle college at Saint Kentigern until restructuring of the organisation to a single college in early 2017 when the role was disestablished.
Saint Kentigern has three schools and a preschool located on three campuses across Auckland.
From the beginning of 2017, the former positions of heads of senior and middle schools at the college were renamed, principal middle college and principal senior college, with their roles moving towards a full responsibility principalship.
At the start of 2020, McQueen took up a new role at the college as director of campus life and special character.
Brooke was formerly principal of ACG Parnell and before that was associate principal, then principal of Long Bay College, over 13 years.
His earlier educational career was spent at St Peter's College and Westlake Boys High. Brooke held roles as teacher of Mathematics and IT, Head of Music, and Director of Curriculum.
Meanwhile, Conelly yesterday also announced that Dr Kevin Morris started last week in his new role as Saint Kentigern executive trustee, "where he will lead and encourage educational excellence across all our schools and be directly responsible for their strategic, commercial and organisational leadership".
"We are delighted to see Dr Morris take up this important new position," Conelly's email said.
Conelly made a fuller statement on the Independent Schools of New Zealand website.
"Following the retirement of the Head of Saint Kentigern, Mr David Hodge, the Saint Kentigern Trust Board has appointed Dr Kevin Morris as Executive Trustee, a new role in which he will provide oversight and leadership across the entire organisation, including Saint Kentigern's four schools," Conelly said.
This role, he said, replaces and builds on the previous Head of Saint Kentigern role, and will continue to take the lead in meeting both the educational needs of our students and organisational needs of the Trust Board.
"Dr Morris will lead and encourage educational innovation and excellence, while being directly responsible for strategic, commercial and organisational leadership," said Conelly.
"As a Saint Kentigern Old Collegian (Head Prefect 1985), a former Bruce House boarder, a former Saint Kentigern teacher, a current parent and current Trust Board member, Dr Morris is already well known by many in the Saint Kentigern community.
"He brings a deep connection to Saint Kentigern's heritage and values and is a leading educationalist in his own right."
Morris lived in the United States and England for many years, earning a doctorate in education from Boston University, working in independent schools, universities and corporations.
In 2003, Morris returned to his homeland and has worked in various roles at the University of Auckland. For the past eight years, he has been Director of Learning and Teaching in the Office of the Vice-Chancellor.
Morris has been a Saint Kentigern Trust Board member since 2018, is on the executive and finance committees and will remain a board trustee.
The Times approached Conelly for further comment. He declined. "There is nothing further to add to the letter that has gone to the Saint Kentigern community," Conelly said.