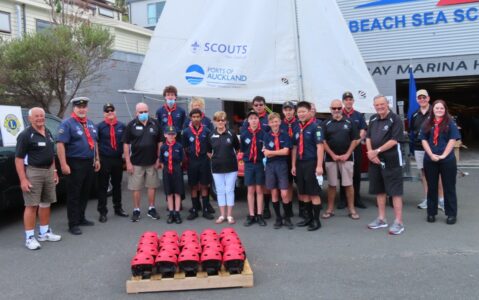 By Roger Robinson
Last July the Bucklands Beach Sea Scouts approached our Club seeking our help for the provision of sailing helmets for their group.
Their Group was planning to attend a 10-day National Regatta in Picton in December. The Scouting Group had made it mandatory that all participants wear sailing helmets for safety reasons as in the past scouts have been injured by the swinging boom.
The scout group had identified a supply source for the helmets at $50 each and they required 30.
The Bucklands Beach Lions Club considered their request and agreed to fully cover the $1500 purchase price and the helmets were ordered. Each helmet bore a small label acknowledging the Bucklands Beach Lions Club's support.
However, Covid breached our county's border and in August we moved into Level 4 lockdown. This has only recently been lifted to a level where it has been possible to formally hand over the helmets to the Sea Scout Group. Unfortunately, the National Regatta in Picton has been cancelled.
Last Saturday members of the Buckland Beach Lions Club met up with the members of the Bucklands Beach Sea Scouts outside their scout den in Bucklands Beach and officially handed over the 30 helmets They will be a requirement for ongoing sailing activities.
Roger Robinson is president of the Bucklands Beach Lions Club