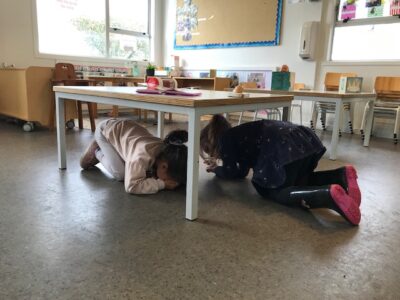 Staff and children at Rockabye Early Learning Centre in Highland Park today took part in the National ShakeOut.
Rockabye centre director Caryn Mawkes said it important to familiarise their charges with safety procedures in the event of an earthquake.
"We participated with the rest of New Zealand in our National ShakeOut," Mawkes said.
"ShakeOut takes place across the world to remind people of the right action to take during an earthquake – drop, cover and hold.
"Rockabye have been practicing being Turtle Safe and how to look after ourselves in an earthquake.
"This morning at 9:30am one of the teachers called out "earthquake" and we all quickly and carefully put into practice our turtle safe and dropped, covered and held.
"We did a great job and the teachers were all very proud of how we remembered exactly what to do to keep ourselves safe."