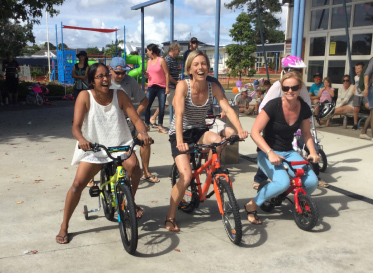 By Nathan Morton
Pakuranga College student
It was all smiles for pre-schoolers in the Howick district as the local kindergarten once again held their annual Bike-a-Thon.
Hosted by the Howick Kindergarten on March 26, this year's successful family event gave pre-schoolers the chance to show off their pedaling skills while siblings, parents and grandparents were encouraged to come and support the youngsters.
The Bike-a-Thon kicked off at Owairoa Primary School at 10am, where children aged three to five raced laps around the school, and spectators who turned out were gifted with the humorous experience of watching the parents compete in their very own racing match.
Howick Kindergarten open-ed in 1963 and has been serving the community for the past 54 years.
The Bike-a-Thon is one of the ways the kindergarten has done so, with more than four decades' experience running the annual event, and kindergarten teacher Moana Paterson said the day was a big success.
"It was well supported… and the feedback was very positive. We have a Facebook page where people can comment their thoughts on events, and we also gave feedback forms to parents. We got a really good response," she said.
"We can see it becoming more of a family event in the future."