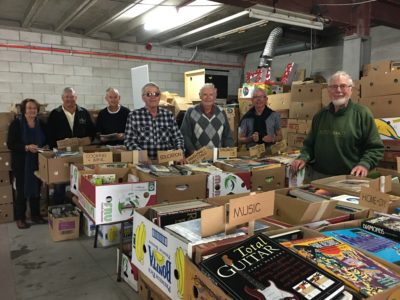 It's a book lovers dream at the Howick RSA as a treasure trove of second-hand books lines the walls in preparation for the annual Bookarama.
Now in its 17th year, Bookarama, hosted by The Rotary Club of Howick, is the club's biggest fundraising event of the year, bursting with books ready to go to new homes.
Dozens of volunteers have spent hours sorting through tens of thousands of books, donated from the overflowing bookcases of Howick residents who are eager to see the books they no longer read go to new owners.
Book collectors can head down to the Howick RSA from Wednesday October 11 and stock up on books, puzzles and games.
Those who want to beat the crowds can head to the Early Bird Night on Tuesday October 10 from 6pm for a head start on finding some literary treasures.
"The response this year has been huge, and people have really been getting behind the fundraiser," says Rob Mouncey of Howick Rotary.
"It gives the whole community a chance to get together, recycle their books and replenish their library, knowing that all the proceeds will go to supporting various community projects."
In past years the Bookarama has raised more than $30,000 for the community, Mouncey says he hopes this year will be no exception.
He says there will be no shortage of happy bookworms with many of the books costing no more than a gold coin.
Mouncey says Rotary Club volunteers have been hard at work for months to make this event unforgettable for booklovers.
"We are always blown away by the turnout at Bookarama each year, and it's good to see the residents of Howick enjoying the event so much."
After Bookarama, any unsold books are offered to schools to add to their libraries or to be used in similar fundraising events to raise money for the school.
Bookarama will be held at the Howick RSA, 25 Wellington Street, Howick.
October 10 – October 15, 2017.
Wednesday, October 11: 9am – 5pm
Thursday, October 12: 9am – 9pm
Friday, October 13: 9am – 5pm
Saturday, October 14: 9am – 5pm
Sunday, October 15: 9am – 4pm
Early bird Night – $20 admission
Tuesday, October 10: 6pm – 9pm