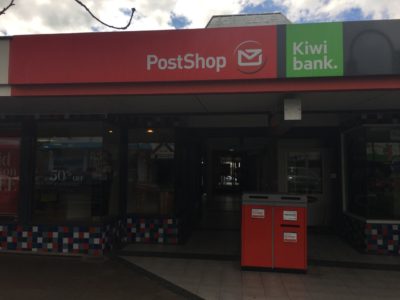 Kiwibank is to close its Howick branch and New Zealand Post will look for a local business to take up some of its services.
NZ Post is looking for a local agency to help it with options to deliver postal services and bill payments currently available from the Howick NZ Post & Kiwibank.
Kiwibank, which operates independently to NZ Post, on Monday announced plans to close its Howick branch.
NZ Post will remain in the area and is seeking a local business to deliver postal and bill payment services, Kiwibank said in a statement. Until a postal partner is secured, the branch will continue to operate as usual.
Pakuranga MP Simeon Brown said he will be seeking assurances about the NZ Post/Kiwibank services that are provided in Highland Park and Pakuranga.
"While I know that many locals will feel aggrieved, I am pleased that NZ Post and Kiwibank are intending to locate a local business to take over their postal services and will provide the community with plenty of notice before any changes take place."
He said it would be "particularly upsetting" for the large elderly population in Howick who enjoy the ability to pop into their local PostShop.
"I have requested an urgent meeting with NZ Post to discuss these changes to ensure that the community is kept-well informed about what the changes will mean and to ensure that we can retain these important services in the Howick community," he said.
NZ Post head of retail Mark Yagmich said he wished  to reassure customers that postal services would continue to be provided to the Howick community.
"While we understand this is a change in how people will access postal services, we are having to make these changes in order to operate a commercially sustainable business," Yagmich said.
"Along with still being able to access postal services, this approach works well for our customers, who also often enjoy longer opening hours, and more convenient locations.
"This model of working with local agents is more financially sustainable for NZ Post, in an ever-changing mix of postal services usage – the decline of mail versus the increase in parcel services."
Yagmich said it was also good for the local businesses NZ Post worked with as it provided additional business for them and more customers coming through their doors to pick up a parcel or send a postcard.
"We'd like to reassure the community that there will be no change to our services for customers who use these branches, whilst we look for a local business," he said.
Kiwibank said that in response to increasing numbers of customers accessing banking services in different ways, it has decided to withdraw services from the Howick Kiwibank and NZ Post Branch.
Kiwibank general manager retail distribution Geoff Waller said: "We regularly review our branch network to ensure branches are sustainable and safe. Over the past five years customer preference has overwhelmingly shifted to more convenient ways of banking. The average customer now uses online, mobile or phone banking one to two times a day and visits a branch one to two times a year."
Postal services are also available from:
Highland Park NZ Post & Kiwibank (including bill payments) open Mon to Fri 0830 to 6pm, Sat 9 to 6pm and Sun 10 to 4pm (2.7km away)
Foursquare Cockle Bay open Mon to Sat 7am to 8pm, Sun 8am to 8pm (1.8km away)
Paper Expressions, open Mon to Fri 9am to 6pm, Sat 9am to 5pm and Sun 10amto 4pm (2.8km away)
Half Moon Bay Marina Pharmacy, open Mon to Fri 0830 to 5pm, Sat 0930 to 1230 (3.9 km away)