By: Marianne Kelly
The fight to save Howick's iconic views from Stockade Hill and Crawford Park is underway.
Late last Friday the Howick Ratepayers and Residents Association (HRRA) lodged appeals to the Environment and High Courts against Auckland Council's decisions on the Auckland Unitary Plan (AUP).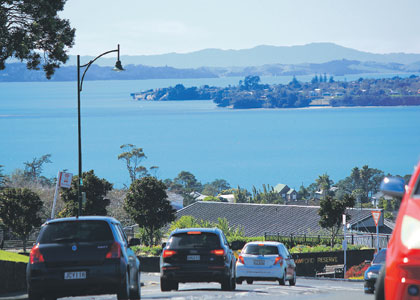 The HRRA is now calling on Howick locals to help support its fundraising appeal to fight the plan changes which threaten views of the Hauraki Gulf from Stockade Hill and Ridge Road.
The council publically notified its decisions on August 19 and the statutory 20 working day appeal period closed at 5pm last Friday.
At that time, the HRRA had more than 2500 signatures on its petition online and in writing.
Gayleen Mackereth, who chairs the association, says the petition will remain open until the end of the month and can be signed online at: www.change.org.
The plan change HRRA is opposing is among unasked for, belated 'out of scope changes'.
HRRA and the Cockle Bay Residents and Ratepayers Association, working together, gained 'single house' zoning for the old Cockle Bay Heritage Zone, Mrs Mackereth says.
"Who could have believed that the newly notified version of the Unitary Plan could have reinstated an urban zoning all the way along Mellons Bay Road opposite Stockade Hill and surrounding Crawford Reserve."
This reserve was specifically bought by Manukau City Council to preserve these outstanding views in perpetuity.
"It is even more perplexing as this 'out of scope' zoning had been earlier withdrawn by the council but the Independent Hearings Panel reinstated it," she says.
"This MHU ('mixed house urban') zone would allow multiple 13-metre high buildings to be built all the way from Bleakhouse to Parkhill Roads on the seaward side of Stockade Hill so we could potentially face a wall of such apartments completely blocking our views.
"We cannot allow this to happen," Mrs Mackereth says.
"As soon as the new mayor and council take up office the petition will close and a deluge of signatures will arrive on the mayor's desk.
"We will then meet the new council and demand that a plan change be put in place to remove this zoning and reinstate this area opposite Stockade Hill as 'single housing' once more.
"Please keep the signatures coming in.
"The court of public opinion is perhaps the most powerful court in the land."
Now that the appeals to the courts are in, a campaign to raise funds to cover the legal costs has started.
It's called "Protect Stockade Hill Views Appeal" and a specific account has been set up for donations with the ASB.
Howickians willing to support this urgent cause can make donations to "The Howick Ratepayers and Residents Association" Acct # 12 3089 0123712 02.
You can also sign the HRRA petition at these retail outlets: Howick Information Centre, Michael's Emporium, Silks Jewellery Store, Unichem Main Street Pharmacy, Spillers Hammer Hardware.