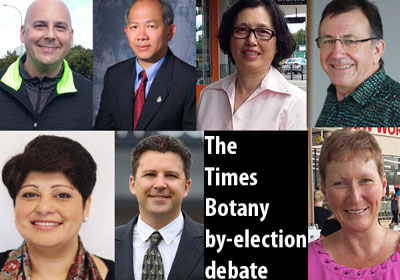 Voting has begun for the Howick Local Board, Botany subdivision by-election and tonight voters will get a chance to ask questions of the seven candidates standing.
The by-election follows the resignation of local board member Lucy Schwaner and is expected to cost up to $104,000.
The Times is hosting a debate at Botany Library tonight, giving the candidates running in the by-election a chance to discuss the issues facing the community.
Everyone is welcome at the debate, which will run from 6.30pm-7.30pm, and there will be a chance to ask questions of the candidates.
There are around 36,000 enrolled electors in the Botany subdivision – which encompasses Flat Bush, East Tamaki, East Tamaki Heights and Ormiston – including around 200 new voters who turned 18 since the main local body elections were held in October.
Voting closes at 12pm on February 17 and results will be available that afternoon.
The seven candidates standing in the Botany by-election are: Mark Johnson (Labour), Malcolm Page (Independent), Julie Patterson (Independent), Ailian Su (Independent), Nivedita Sharma Vij (Independent), Mike Turinsky (Practical Not Political), and Kuan Cheong Yap (Independent).
The Times will have live coverage of tonight's event on its Facebook and Twitter pages and extensive coverage in the Howick and Pakuranga Times and Botany and Ormiston Times newspapers next week.
The Times Botany by-election debate will held at Botany Library, Level 1 Sunset Terrace, Botany Town Centre from 6.30pm-7.30pm tonight.