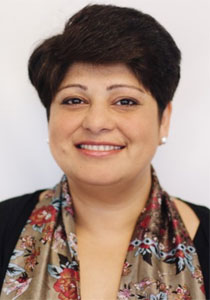 "Your neighbours are your first relatives. That's what my dad used to tell me," says by-election candidate Nivedita Sharma Vij.
It's a sentiment she does her best to live by, and has now become the driving force behind her campaign to be the newest elected member of the Howick Local Board for the Botany subdivision.
A New Zealand-registered nutritionist by profession, Mrs Sharma Vij loves to run nutrition consultations, diabetes prevention and management workshops, quizzes and cooking demonstrations.
The 42-year-old was appointed a Justice of the Peace in May 2015, and currently fulfils her role working Tuesday evenings at the Ormiston College Service Desk and Thursday evenings at the Botany Library Service Desk.
She's the only by-election candidate with no billboards on display, citing the importance of road safety as her primary reason.
No billboard, no reason to take your eyes off the road, she says.
Instead, Mrs Sharma Vij has been visiting community groups, campaigning on social media, encouraging people to voice their concerns through the online Have your Say group, connecting with Botany residents through Neighbourly, and interacting with locals in public parks and residential homes.
Following the loss of her 16-year-old daughter, Mrs Sharma Vij decided to put her name forward for the position, to carry forward her legacy, and honour the wishes of her daughter.
"My daughter had always been an inspiration," she says, "and encouraged me to hold a public office so I could promote fairness and accountability for all residents of the community."
Despite the recent tragedy, Mrs Sharma Vij says she feels well-placed to accept the responsibility that the position entails.
The Botany resident moved to New Zealand from India in 2002, and took up a job working at McDonald's for three weeks to improve her English dialect and pronunciation before interning at Middlemore Hospital and pursuing her dream to work in the health sector.
If elected, Mrs Sharma Vij says she's more concerned with addressing the needs and desires of the community than blindly reinforcing her own plans.
"If you're in a position or have a platform, you're there to serve," she says, "so it's not about doing what matters to me personally. It's about what matters to our community, and to our people. People are part of community."
She does have a few ideas up her sleeve, though.
Mrs Sharma Vij wants to see better transportation solutions for East Auckland, and good-quality public facilities on offer for the community.
She wants to make services people-centred, and put her Accredited Commission of Financial Literacy knowledge to use by examining existing policies, to assess whether they are functional for today, and more importantly, for tomorrow.
Mostly, she's ready to listen, with high hopes the community she loves to serve is ready to talk – and no doubt, to vote.
"It comes down to the importance of connecting with people…appreciating the good times, and walking with them through the problems they face with a solution-based approach. If we can do that, we'll be alright."
By:Laura Brookes