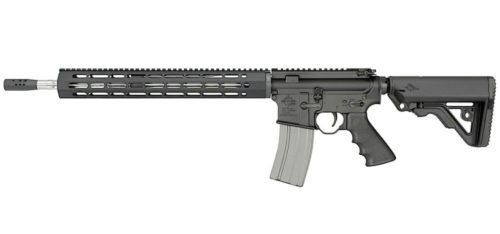 Police "forgot" more than a dozen AR15 rifle receivers on a Howick front lawn following the alleged execution of a search warrant, a shooting blog claims.
Mike Loder, a contributor to specialist forum Kiwi Gun Blog, claims Auckland Police left 15 AR15 rifles on a lawn and simply forgot them. "This is the same weapon type believed to have been used in the recent American horror shooting," he said.
Loder, who told the Times he has been campaigning for harsher penalties for armed offending for the last 25 years, said police executed a search warrant on a property of a licensed firearms dealer in Howick. "These tightly restricted firearms had been seized as a result," he said.
"An officer of the court has told the Kiwi Gun Blog that the Independent Police Conduct Authority (IPCA) are investigating both this incident and a detective who allegedly forged signatures on witness statements during the same case," Loder said in the blog.
"The IPCA has not returned our calls to confirm this."
The Kiwi Gun Blog states that the goal of the blog is simple – "to keep the shooters of New Zealand up-to-date on the threats to their right to responsible firearm ownership. Then to provide them with the information and guidance to counter such attacks."
A police spokesperson said a query lodged by Loder is being treated as an Official Information Act request. "The NZ Police Media Centre is designed to service calls from recognised media outlets," the spokesman told the <ITALICS>Times via email.
"As Mr Loder is not media, his query was referred to our OIA process, which is standard process for detailed information requests."
It is not accurate to say police refused to answer his questions, the spokesperson said.
"Police are investigating a complaint that was received in 2016, relating to an incident that took place in December 2014," said police.
"The matter is currently the subject of an employment investigation and as this is ongoing, Police are unable to comment further."
Loder understands that the 15 AR15s' complete upper and lower receivers had been left outside on the dealer's lawn by the police who had conducted a search.
"The dealer later discovered them and called the police – asking them to come back and collect them," Loder said.
"Police then told him to drop them off at another person's address. Police then later charged him with unlawfully supplying these same firearms to an unlicensed person.
"All charges were subsequently dismissed."
Loder said the AR15 is a very modular platform. It can accept a vast variety of parts – like dressing a Barbie doll – with simple hand tools. But it needs the heavily restricted receiver to make this possible.
"This complete and registered part is what was forgotten. Resulting in the possibility that 15 rifles – similar to those just adopted by our military – could fall into the hands of gangs," said Loder.
"For this reason, in the eyes of the law, the receiver is the rifle."