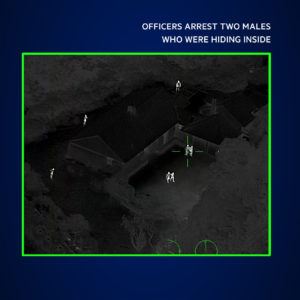 Two people were arrested after allegedly breaking into a family's east Auckland home.
The incident unfolded at a residential property in Point View Drive, Dannemora, on May 16.
A post on the Auckland City District Police Facebook page says a resident of the home phoned 111 at about 11pm to report their power had been turned off and they had heard glass being broken.
The home's occupants were able to safely leave their property and quickly phone police.
"Our police helicopter 'Eagle' responded to the area, where they monitored the address while directing officers on the ground including a dog unit, 'Delta'," police say.
"Delta and a team of three [officers] cleared the house and located two males hiding in the kitchen area.
"Both alleged offenders were arrested and taken into custody."
A 32-year-old man has been charged with burglary and a 17-year-old will be referred to Youth Aid over the incident.
Police say they acknowledge the residents for their quick thinking and phoning 111 straight away.