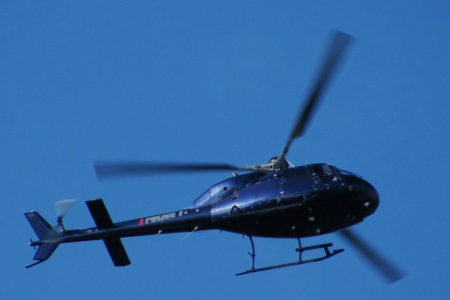 Counties Manukau East Police apprehended two youths after a vehicle stolen from Highland Park was spotted by officers in Howick this morning.
The police Eagle helicopter assisted in the apprehension after the vehicle failed to stop for police and road spikes were deployed to bring the situation to a safe conclusion, Inspector Chris Barry, Area Prevention Manager for Counties Manukau East Police, told the Times.
A 15-year-old has been arrested and will appear in the Manukau Youth Court. A 14-year-old is being dealt with by Counties Manukau East Police Youth Aid Services.
Earlier the same morning Counties Manukau East Police recovered a stolen vehicle that was spotted at a local petrol station.
"Identifying features of the car didn't match and further examination revealed the true identity of the car which had undergone significant modifications to conceal the fact it had been stolen," Inspector Barry said.
Enquiries are continuing to identify the offenders responsible for the theft of the vehicle.
During the early hours of Monday (September 9), Counties Manukau East Police spotted another car at a local fast food outlet which turned out to be stolen.
Police followed the car and apprehended the two occupants at a residential address.
A 36-year-old female is appearing at the Manukau District Court charged with unlawful taking of a motor vehicle and a 30-year-old male is appearing on a charge of unlawfully getting into a vehicle.
On Monday afternoon, the owner of a car parked outside a Howick gym saw a group of young males breaking into his car.
The males ran off followed by the car owner who immediately phoned police on 111.
Although the owner lost sight of the offenders, police arrived and located one of the suspects and took him into custody.
He has been referred to Counties Manukau East Police Youth Aid Services.
"Police greatly appreciate the assistance of the public in apprehending vehicle crime and burglary offenders and are asking the community to be vigilant and phone 111 immediately if they observe suspicious activity," Inspector Barry said.
He emphasised that many vehicle-related crimes could be prevented if people removed all valuables including wallets and any electronic accessories and locked their cars securely.
"Pre-2005 cars that don't have an ignition immobiliser should be secured using a steering wheel lock to reduce the risk of it being stolen," he said.
"These can be purchased at automotive retailers for much less than the cost of an insurance excess or replacing the vehicle's ignition."
Meanwhile, Counties Manukau East Police have received several reports of vehicle break-ins around the Howick Village area over recent months.
Police are currently liaising with the council around whether further measures could be taken to reduce vehicle crime in the area, such as installing CCTV cameras.
In general, police find that shopping areas and town centres are often targets for vehicle crime.
"These crimes are opportunistic in nature and can be prevented by vehicle owners taking simple precautionary measures," Inspector Barry said.
"Always ensure your vehicle is locked and secure and never leave valuables in your vehicle.
"While these steps seem straightforward, unfortunately police are finding most of these cases could have been prevented and vehicles that were broken into contained valuables that were stolen by the offender.
"We also encourage the community to be vigilant and report any suspicious activity to police at the time by phoning 111 so we can respond as soon as possible."
Inspector Barry also offered comment following an apparent incident at Muzza's Pies on Howick Village main street yesterday afternoon. The owners told the Times two teens with faces covered stole pies and drinks before running off while the owners were near the counter. On Monday a person attempted to steal the charity box there but dropped it on their way out. They had not called police.
"Police urge anyone who is the victim of a crime or who witnesses offending taking place to report it to police immediately by phoning 111," Inspector Barry said.
"We also ask anyone who witnesses suspicious activity to contact police immediately. Police are happy to visit store owners who are victims of crime to provide prevention advice and tips around how they can reduce their risk of being targeted by offenders.
"In general, we also encourage store owners to consider preventative measures such as CCTV cameras.
"Any store owners who have concerns are asked to contact their local police station. If store owners would prefer to speak to an officer in another language, we have a range of Ethnic liaison officers who are fluent in a number of different languages and are available to provide assistance."
Information regarding vehicle-related offending or people receiving or offering to sell stolen property should be reported to their local Police Station. Alternatively information can be reported anonymously on Crimestoppers 0800 555-111.