There are cats – and then there are cats.
There's Stubbs, who reigned as mayor in the Alaskan historic district of Talkeetna. What about Félicette, the first and only cat to have survived spaceflight after being launched into space by the French in the 60s?
Or there's Nala who boasts 4.3 million followers on Instagram for which she has been duly recognised as the Guinness World Records title holder.
Much closer to home is Phoenix, aged 3 or 4, who is known by just about every child – and their parents – who plays or goes to school or playcentre near Howick Domain. This puss is so attuned to school runs, he makes sure he's out around Owairoa Primary School most days to collect his quota of pats.
The domain is also home to the Howick Tennis Club where Phoenix is a regular patron, often taking time to contemplate the universe mid-court during club matches.
He has even left his Abercrombie Street home nearby to catch a team's sevens training on a Wednesday – and made the effort under his own steam to watch the game the following Saturday.
"We have tried everything to keep him home but he just loves the park. He does come home two or three times a day to eat and he sleeps here most nights," says owner Staci McLean.
When he initially went walkabout, Staci became worried. No longer however – she has to put their phone number on his tag.
The calls from concerned residents crossing Phoenix's path are a fact of life . "I'd explain he's not actually lost. We would go and pick him up."
Staci recalls driving past the domain playground one morning. "A group of pre-school kids and their teachers were playing. From out of the middle of the kids wanders Phoenix. He loved seeing the kids and having pats."
So popular was the moggie and his exploits following a lengthy social media splash, Staci started a Facebook page for Phoenix which has 133 followers (see link at the end).
One post in July from Amy Hillerby shows Phoenix climbing trees with her children during the holidays.
"He loves meeting everyone and, during lockdown, he would wait at the park for pats and to say hi to all the walkers and kids," says Staci.
Phoenix has a loyal fan base, without question.
Lisa Buckley said on the local Grapevine last month: "Yip, he was snuggled on the upstairs chair at the Howick Tennis Club this evening. Left part way through the night, cruising across the courts in the middle of everyone's games. Much loved by many."
Andrea Martin: "Lol reading this post is wonderful Phoenix is a real hero passing on cat love to everyone …. very cute xx.'"
Kathryn Kelly: "Strong willed cat too, always stands up to my dog and gives him a swipe and doesn't run away like most cats do."
Pearl Cornelia: "Beautiful cat, often joined us at boot camp."
Carolyn Gordon: "He loves the Howick Tennis Club – can't wait until gates open – he is a regular and we love it…we call him Tennison."
Howick Tennis Club club manager Kashmira Umrigar told the Times Phoenix has become part of the club. "He loves to sunbathe on our courts whilst we are playing or upstairs on the deck. His favourite spot is our couch upstairs in the club rooms. There is't a single day when he doesn't visit the club."
However it is the Howick feline's actions about two years ago which have left an indelible mark on Staci who acknowledges this is no ordinary cat.
"I knew there was something different about Phoenix when one night I had gone to bed early and woke to hear someone crying outside my bedroom window," says Staci.
"I went downstairs, found a very drunk and upset young lady, maybe in her late teens,early twenties.  She had been drinking in Howick with her friends, had become upset and had taken off on her own.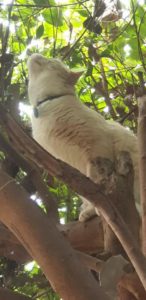 "She told me she had wanted to find a way to harm herself as she was walking around, but she met Phoenix, she followed him and he led her all the way back to my house in Abercrombie Street and, through a construction area (they were getting a carport built at the time), to directly under my bedroom window.
"I am an author and speaker in the field of emotional health and alcohol abuse so I was the perfect person for her to talk too. I found her mother's number in her phone and they came and collected her.
"Phoenix led her from Howick to our house, to the exact place she needed to be.  That is the kind of cat he is.
"Thank you everyone who gives him love. Sorry to all the tennis players whose games are interrupted by Phoenix."
See his Facebook page here.