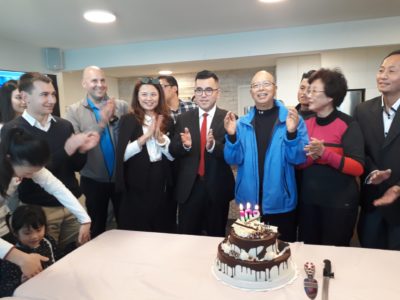 Plenty of shared food and a definite sense of community marked the Mid-Winter Festival hosted by the newly formed Botany and Flat Bush Ethnic Association at Kotahi, BotanyLife Community Centre at Ti Rakau Drive.
Peter Young, founder of the association and Howick Local Board Member for Botany added to the air of festivity as he cut a birthday cake.
Celebrating his birthday along with Robin Li his business partner in real estate, Mr Young said they had turned 108 together! "And that's a lucky number!" he laughed.
Also present to meet up with people from the ethnic association were Howick Local Board member for Botany Mike Turinsky with his son and Pakuranga MP Simeon Brown who later left to do some door-knocking on a Saturday afternoon.
The afternoon ended with a talk on `You are what you eat' by Dr James Lu.