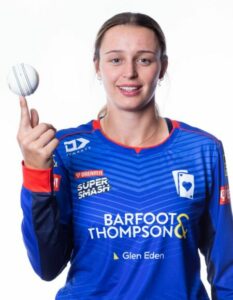 A Howick sports star has been selected for the New Zealand Women's Cricket Team.
Molly Penfold, 20, has been playing cricket for the Howick Pakuranga Cricket Club since she was four.
She currently plays for the Auckland Hearts as a fast bowler.
"She's always really enjoyed it," her father Neil told the Times.
"She's always been into sports."
And so have the rest of her siblings – her oldest sister, with whom she played on the same cricket team for years, her younger brother and sister.
Penfold played other team sports including touch and netball.
In 2020 she had plans to travel. "Covid-19 shelved that," Neil says. "It really affected her."
However, with the pandemic delaying her desire to travel, she concentrated heavily on her cricket.
It paid off as she gained several opportunities.
She debuted for the Auckland Hearts and, in April 2021, she was named in the New Zealand's Women's Twenty20 international squad for their third WT20I match against Australia. She has also been a part of their winter training camps.
"She loves it," Neil says. "She enjoys the team environment."
A few weeks ago Penfold was called up for the White Ferns for its tour of England. She was a late replacement for injured player Rosemary Mair.
"When she told me, there were tears on both ends of the phone," Neil says.
"We're just so proud".
She left for England on August 14.
"She likes the camaraderie," Neil says. "She's so overjoyed."
Additionally she has been offered a New Zealand Cricket Development contract for the coming season.
Ted Waters, co-owner of several Howick eateries, has known Molly since she started as an employee on the day Daisy Chang opened two-and-a half years ago. "I couldn't be happier for her."
"She's a friendly and smiley person," Waters says. "She's hugely liked by everyone."
Her dad says she is "very determined and resilient with a strong mental mindset".
"She's been supported tremendously by the Howick Pakuranga Cricket Club," Neil says, "and the local community."
Penfold is due to return to New Zealand on September 28.