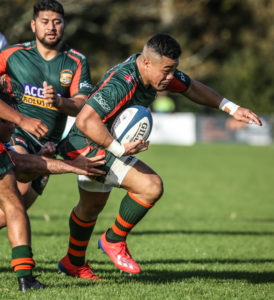 Pakuranga United Rugby Club's Premiers almost pulled off the comeback of the season reducing a heavy half-time deficit to record a 24-18 loss against Eden.
PURC director of rugby Pita Alatini said the performance demonstrates an ability by the Prems to step up in the second half. The Prems were down 19-3 at the break.
"They (Eden) were very clinical in that first half. We gave away too many penalties. That was pretty disheartening.," he said.
"But in the second Half we adapted and had a bit more opportunity and near the end we were well within a position to win."
The Prems had to focus to stay in the hunt for a top four finish. They meet Papatoetoe at home this weekend.
RESULTS:
Access Solutions Premiers 18 – 24 Eden
Tries: Michaile Van Wyk x 1, D Spooner x 1
Conversions: George Taina x 1
Penalties: George Taina x 1 and Hawaii Ahokovi x 1
Halftime 3 – 19
Marie Raos Ray White Premier Development side won by default over Mt Wellington
Safari Group U20's 19 – 25 Grammar Tec
Tries: Sam Beere x 1
Conversion: Armani Wright x 1
Penalties: Armani Wright x 4
Halftime: 13 – 10
PIC insurance Brokers U85kg Taipans 27 – 29 University Debt Collectors
Tries: Jeandre du Toit x 1, Michael Taylor x 1, Logan Kinnear x 1 and Brad Martin x 1
Conversions: Jason Littlefield x 2
Penalty: Jason Littlefield x 1
Halftime: 13-10
Greenstuff Presidents 65 – 0 Manukau
Tries: Mils Maifala x 3, Sam Boggs x 2, Shaun Ryan x 2, Stephen Kitchener x 1, Andrew Smith x 1, Nico Uys x 1, Kengi Takino x 1
Halftime: 30 – 0