After a decade-long wait and residents pushing for footpaths, looks like construction of much needed footpaths in Flat Bush will become a reality, thanks to the efforts of Year 11 Ormiston Senior College students.
Ormiston locals have long waited to have four footpaths built in Flat Bush, which will now be delivered this financial year.
The footpaths will be on Ormiston Road, from 249 to Collier Drive; from Murphy's Road to Lemon Tree Lane; and from Pencaitland Drive to Te Ara Kahikatea. The fourth path will be on Geranium Avenue from Rohi Place to Murphy's Road.
The paths will connect to Pak'n'Save supermarket.
Howick Local Board member Mike Turinsky says residents have a group of students supporting a wheelchair-using friend to thank for it.
"Ormiston Senior College has wanted Auckland Council and Auckland Transport (AT) to install the footpaths for nine years and in all that time residents have had to walk on the road or on the grass," he says.
"That's hard for the elderly and wheelchair and mobility scooter users and it's worse in the rain."
Mr Turinsky was aware of the issue and, after being elected in 2017, began advocating with AT and the board to have the work done. But he was repeatedly told development of the footpaths was the responsibility of the property owner and develope, and would not happen until the property was developed– so it could be paid for from development contributions.
"It frustrated me because residents were trudging through soggy grass or along the road to get to the store. I admit I was hitting a brick wall and had almost given up, but a group of Year 11 Ormiston Senior College students contacted me petitioning for the paths."
When Deputy Mayor Bill Cashmore attended the Howick Local Board's monthly meeting, talking about council's responsibility for developing infrastructure on council property especially in town centres, Turinsky outlined the issue and Cr Cashmore agreed in principle it was the responsibility of council to develop the footpaths.
When a meeting with the students took place with Turinsky at the school, the students explained that they chose this issue to focus on as a class project.
They outlined their concerns, particularly in relation to access for all, including those in wheelchairs.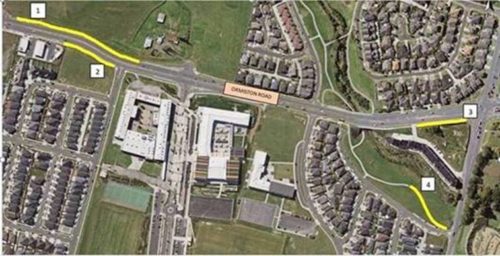 "Our friend Jamie Stanford was born with a spinal birth deformity called spina bifida. The lack of accessibility causes trouble for Jamie and other people who use wheelchairs and mobility tools, simply to get their groceries. It's a human rights issue," says OSC student Kush Killa.
Mr Turinsky says: "I was pessimistic the issue would be resolved but the students inspired me to try again."
He turned to Cashmore's office and representations were made to AT asking for it to reconsider.
"It's taken a long time but talking to those students, who were determined to stand up for their friend was a reminder I should not quit."
He says Auckland Transport should be commended too. "Everyone knocks AT but they listened to the concerns and acted on them. Yes, it might have taken a long time, but it has changed its stance."
AT's spokesperson Mark Hannan confirms saying, "Auckland Transport is completing four missing links in the footpath network along Ormiston Road. The gaps in the footpath have limited the ability of people to walk in the area."