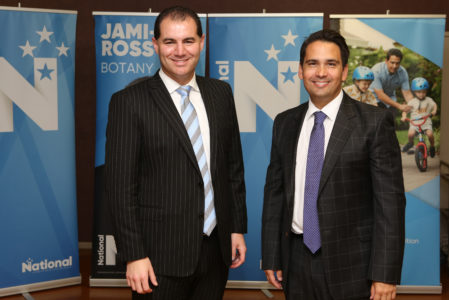 By PJ (Phil) Taylor
OPINION: Now the dust is settling and the destructive storm has passed, it's time to breathe, rehabilitate and heal.
The political hurricane that blew through our east Auckland community and the rest of the country last week left everyone completely wiped out, as the weather calmly changed and spring sprung into bloom.
Last Saturday, I had an opinion piece published by Times Online. It called on Botany MP Jami-Lee Ross to 'Stop mudslinging, for Botany's sake' (headline) – and its language was direct.
The theme was taking into consideration the emotional impact of actions on others – people not directly involved such as family, friends, colleagues and community.
Subsequent events of recent days, including with his being sectioned and put into mental health care, gives everyone – especially him – space and time for contemplation, and the chance to start understanding what did actually happen, the week's events being that almost surreal.
Mistakes have been made, considerable hurt has been caused.
It's now time for the beginning of righting the wrongs and the learning from the mistakes. Apologies have been made and more need to keep coming, sincerely.
Everyone makes mistakes, even many, and a lot have been made on all sides of this political storm.
It's time for the community and nation to rally with care for the victims, and for Jami-Lee to get the care he needs. There is a lot of meaningful, positive life ahead after this dark time.
Meanwhile, there is plenty in political circles to consider after this sorry saga.
It needs to be explained to the public what expenses and allowances MPs and elected members are entitled to and available – what's acceptable?
Political parties, elected members and candidates need to be more careful about where they are getting their donations and funding from.
They should be checking who the people and entities are that they're receiving money from, and what the expectations are from donors – what conditions are placed on the funding? Why is the donation coming?
Importantly, political players at all levels in this country need to be assessing how they conduct themselves in the cut and thrust of the arena.
Jami-Lee only ever wanted to be a politician, and he's a product of his environment. The political world he's involved in is responsible for creating what happened during last week's tumultuous events.
The news media also has to look at the way it covers politics too, especially at national level, when often politicians are judged and reported on persona and behaviour, as opposed to the message they're delivering and policies and stands they're taking.
It takes a lot of consideration for someone to be convinced to stand in an election, to be a public representative of our neighbours and wider community.
If politics continues on the same path as it proceeded down last week, there will be fewer good, honest people with honourable intentions to serve being prepared to stand as a candidate. That's unfortunate, as we need good, experienced hard-working people representing us.
Phil Taylor is a former editor of Howick & Pakuranga Times and has worked in Jami-Lee Ross' office