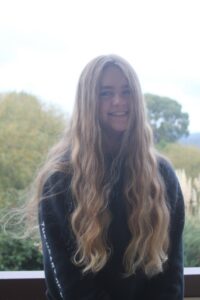 Bucklands Beach Intermediate student Olivia Owen, 12, made a special visit to the hair salon this week.
Olivia took a seat at hair and beauty salon At The Terrace in Howick where she will be raising money for Leukemia & Blood Cancer NZ.
The charity's biggest fundraising effort is 'Shave for a Cure' and whilst Olivia won't be shaving, the scissors will be removing at least 35cm of hair raising around $500 in the process.
"Ever since I heard about Shave for a Cure two years ago, I realised that it was something that I wanted to do and so I have been growing my hair ever since," Olivia said.
"I wanted to help others by raising money so that people suffering with leukemia and cancer may get the help and support that they need. I would like to say a big thank to At The Terrace and Louise who has made a donation of her time to cut my hair."
As well as having the big chop, Olivia will be donating her hair to Freedom Hair in Dunedin where she hopes it will be used in the making of wigs.
If you would like to help Olivia reach her fundraising target then head on over to www.shaveforacure.co.nz/oliviaowen