'Smales Trail' author's latest offering chronicles the extraordinary Arthur Purchas
Arthur Purchas was said to be perhaps the most gifted person ever to come to this country. Surgeon and doctor, architect, engineer, geologist, explorer, musician, botanist, artist, priest, inventor, in his time he was one of our most prominent citizens.
A sometimes tetchy relationship with the similarly determined and accomplished Bishop Selwyn could have been a block to either man's subsequent achievements. What happened between the two men and what was really behind their amicable split? Why did Governor Grey ask Purchas to help Te Wherowhero? Who was actually responsible for designing many of the 'Selwyn' churches? What was Purchas's 'miracle cure' in breaking the typhoid epidemic at Purewa in 1847?
His wide range of accomplishments includes horticultural and botanical discoveries, musical composition and expertise, significant geological exploration, and the first European discovery of coal deposits in the Waikato. His architectural designs still stand today among the country's finest heritage buildings.
If you are interested in what was really behind the outbreak of the 1860s Land Wars, then Purchas's story will help explain.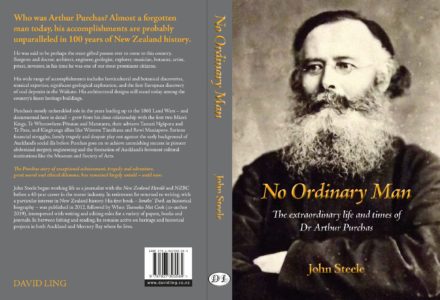 His mostly unheralded role in the years leading up to that conflict – and documented here in detail – grew from his close relationship with the first two Maori Kings, Te Wherowhero Potatau and Matutaera, their advisers Tamati Ngapora and Te Paea, and Kingitanga allies like Wiremu Tamihana and Rewi Maniapoto.
Serious financial struggles, family tragedy and despair play out against the early background of Auckland's social ills before Purchas goes on to achieve astonishing success in pioneer abdominal surgery, engineering and the formation of Auckland's foremost cultural institutions like the Museum and Society of Art.
The Purchas story of exceptional achievement, tragedy and adventure, great moral and ethical dilemma, has remained largely untold – until now.