Singing the Blues went from a funeral dirge to a celebration when Super Rugby Aotearoa kicked off before 43,000 fans at Eden Park on Sunday afternoon.
While it was the signing of superstars Beauden Barrett and Daniel Carter that created all the pre-match excitement, it was first-five Otere Black and man-of-the-match Hoskins Sotutu who spearheaded an impressive 30-20 win.
For that full credit to head coach Leon MacDonald for staying loyal to two guys who helped the Blues win five of seven matches before the Covid-19 virus disrupted the competition almost three months ago.
Barrett was happy to play fullback where he had a relatively quiet game. However his presence remains a huge bonus for a side that has great individual talent but had failed to knit as a team. Ditto Carter.
With both teams scoring three tries, it was Black's perfect six from six goal-kicking performance that sealed the deal.
Sotutu's rise this season has deservedly won him the No 8 spot despite a much-improved fitness and work rate from gifted Akira Ioane whose performance dropped well below his talent last year.
Locks Patrick Tuipulotu, Josh Goodhue and especially lively Tom Robinson dominated the lineout while centre Rieko Ioane and wings Caleb Clarke and Mark Telea were penetrative on attack.
Barrett copped some good-hearted banter from his former team-mates when he failed to overcome Dane Coles' overlap for a fine corner try.
Expect a lot more impact from him in future.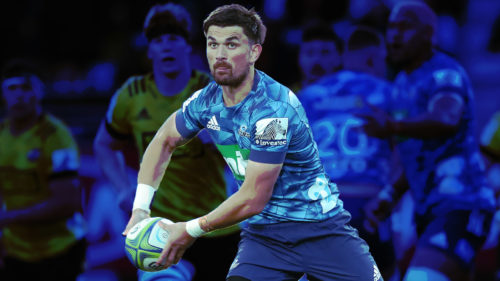 With Black and TJ Faiane taking smart options in the five-eighths and speedy Rieko Ioane adding ball distribution skills at centre, fullback Barrett and powerful wings Clarke and Telea pose a serious threat out wide in coming games.
While fewer scrums are a blessing under new laws designed to offer stronger control of breakdowns and offside infringements, it's a shame there has been no return to old fashioned rucking which delivers quicker ball.
Oldtimers will remember many a sting under hot showers from sprig marks but few head lacerations from rucks perfected by champion Otago coach Vic Cavanagh in the 1940s.
While the ruck failed to reap joy for the All Blacks in the 1949 tour of South Africa, it was a major factor in their success thereafter.
Thirty penalties in the Highlanders versus Chiefs match and 28 in the Blues versus Hurricanes game show the difficulties players are suffering coming to terms with the new breakdown laws.
Having failed for too long, the Blues look to have finally got their coaching combination right by teaming former Cantabrian MacDonald with Hurricane Tana Umaga and Chief Tom Courtney.
Add to that the smarts of legends Carter and Barrett and even the mighty Crusaders have cause to sharpen their swords.
Meanwhile expect the Chiefs to offer hostile competition when they host the Blues in Hamilton next Saturday, having lost their opener 18-17 to coach Warren Gatland's son Bryn's field goal at the death knell of their Dunedin clash last Saturday night.
As the score suggests, there was nothing in it with Damien McKenzie's field goal giving the Chiefs the lead only moments before Highlanders late replacement Gatland broke his dad's heart with a winner he had jokingly predicted over a dinner he had shared with his parents two nights earlier.
Sometimes truth is truly stranger than fiction.
Ivan Agnew is an award-winning sports writer and author