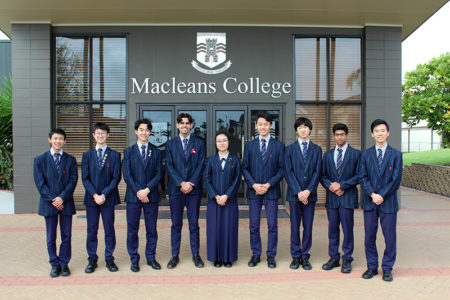 Nine Macleans College senior students have qualified to represent New Zealand at International Olympiads in biology, chemistry, economics and mathematics in Europe in July.
They will be held in Hungary, Paris, St Petersburg and the United Kingdom.
In order to qualify they took part in intensive competitions against students from around New Zealand.
The successful students were:
Biology – Zi Lin Wang (Rutherford House) Year 13
Chemistry – Rayman Tang (Rutherford) Year 13, Daniel Ahn (Batten) Year 12 and Kevin Hou (Upham) Year 13 (Reserve)
Economics – Hayley Xie (Upham) Year 13, Abhinav Chawla (Snell) Year 11 and Sanjit Ramesh Chandran (Hillary) Year 12 (Reserve)
Mathematics – Brothers William Han (Upham) Year 13 and Rick Han (Snell) Year 11.
For the Mathematics Olympiad more than 200 students competed for the final six places.
Twenty seven students attended the final camp, of which a squad of 12 was selected. After more testing the final six were chosen. Of these, Macleans College gained the notable duo of brothers William and Rick Han.
The Economics Olympiad was similarly competitive. One hundred and four students entered the competition, of which 25 were selected for the final camp held at King's College at the beginning of May.
Two Macleans College students were selected in the final team of five. The team was mentored by Macleans College economics teacher, Mrs Ladkoo.
The Chemistry Olympiad was held an Easter training camp for 32 students, from which five were selected.
The top four students, of which two were from Macleans College, will be travelling to Hungary and the fifth student, also from Macleans College, is a travelling reserve.
Their mentor, who is one of three accompanying the students in July, is Dr Allick Lal, a teacher of chemistry and physics at Macleans College.