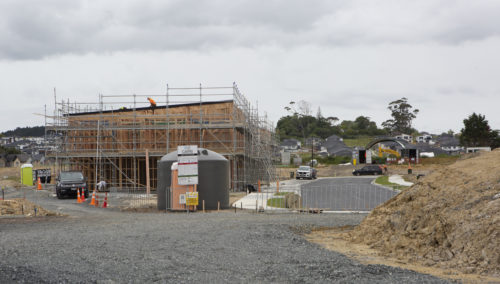 An attempt to name three new public roads in east Auckland was delayed when questions were raised over the process taken to reach agreement.
The Howick Local Board discussed name options at its monthly business meeting in November for three public roads being built in Flat Bush.
The roads are located in a subdivision being developed at 259-271 Murphys Road.
The developer provided the board with its preferred name options, being Pigeonwood Place, Shortfin Place, and Wynnestead Drive.
It also provided multiple potential alternatives, including Pararahi Drive, Omihi Way, and Pihi Avenue.
A report provided to the board states mana whenua were consulted on the new road names in accordance with Auckland Council guidelines.
Multiple mana whenua groups were contacted by the council on behalf of the applicant, it says.
"Te Ahiwaru Waiohua deferred to Ngai Tai ki Tamaki, who in turn did not respond.
"No other iwi provided responses or comments or suggested any other road name options."
As part of that consultation, the board received a letter from Zaelene Maxwell-Butler of Ngai Tai ki Tamaki.
Her letter says Ngai Tai ki Tamaki wishes to provide names for the roads.
It opposes the names proposed by the developer as they have no "historical, cultural or ancestral linkage to the area".
"We categorically oppose the Maori names given [as options]."
The letter also expresses unhappiness with the process and says the iwi did try to engage, despite the board's agenda for its November business meeting stating Ngai Tai ki Tamaki did not respond to a request for feedback.
Maxwell-Butler writes that the names preferred by Ngai Tai ki Tamaki for the first road are Te Ara Tatai Whetu, Hoeroa Road, or Tuahangata Road.
Its preferred options for the second road are Te Ara Pou Waho, Te Ara Pou Roto, or Te Ara Kaiwhitiki.
Its preferred option for the third road is Henry Maxwell Way.
The board discussed the issue at its business meeting on November 23.
Board member Bob Wichman said: "Why don't we call a truce here and have one Maori name and one European name?
"The Maori name suggested is quite sensible. When I say sensible I'm talking about pronunciation-wise.
"We've got to consider all the people in our locality.
"They are a mixture of ethnic groups from around the world and we want something that's reasonably easy to pronounce.
"So why don't we go with Pigeonwood [Place] and Omihi [Way]."
Board deputy chairman John Spiller said "strong consideration" should be given to the view of Ngai Tai ki Tamaki.
He said he sympathised with Wichman's opinion and "maybe we do need to have a blend here".
Board member David Collings said he was "a bit puzzled by the process".
He said he understood all iwi and mana whenua had been consulted on the proposed road names and had not provided feedback on them.
"I thought we had quite a rigorous process around road naming.
"There are a lot of requirements and I thought we were meeting all those requirements, including getting feedback from mana whenua.
"In this case I thought they were one of the parties we send resource consent and a whole lot of things to and actually help process things on behalf of iwi.
"I thought that was done. We seem to be getting a letter saying they're upset with the process."
Collings moved a motion, which was then passed, for the board to defer the item to its next business meeting.