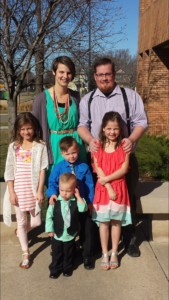 They've travelled more than 12,000 kilometres to New Zealand, and now Rev Josh Bowlin's family is settled in their Bucklands Beach home, ready to take on the vast opportunities the country has to offer.
Mr Bowlin is the new full-time associate pastor at East City Wesleyan Church (ECW) in Botany, where he leads the youth, young adults and community programmes.
He's also taken on the position of director of the LifeGrowth Community Trust, the community services arm of ECW, and is excited about the difference he can make in the east Auckland community.
Mr Bowlin made the trip from South Dakota along with wife Rebecca and their four young children at the end of February to relocate to New Zealand, where he lived and worked in South Auckland in 2003.
The Indiana-born American has an extensive history being a representative of good work in the community, having taken up roles as a volunteer firefighter, a varsity boys head soccer coach and a chaplain at a rest home.
He also qualified as a fully certified police officer after becoming the first chaplain in the town's police department.
Senior minister of ECW Rev Dr Richard Waugh said Mr Bowlin's experience working in Auckland and overseas is already shaping up to be a huge asset to the trust.
"I am impressed with how quickly he is connecting with a wide range of people in the community and is keen to reach out and assist so many teens and young adults.
"The LifeGrowth Trust has been operating as a community resource since 2002 and is very fortunate to have the calibre of Josh Bowlin as its new director."