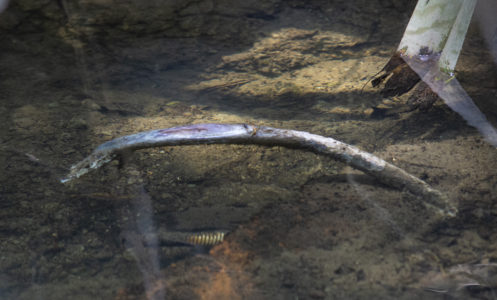 An investigation has failed to determine what killed dozens of eels found dead in an east Auckland waterway more than a month ago.
Burswood resident Paul Taylor posted photos on social media on December 14 last year of what he says were more than 30 dead eels in the upper estuary in Huntington Park, near Ti Rakau Drive.
He reported the find to Auckland Council, which carried out an investigation to try to identify what killed the eels.
Taylor told the Times in December that local children fed the eels.
He learned of the incident from neighbours before going to view the situation for himself.
He says the council told him its staff had visited the site and taken some eels away for analysis.
Photos taken of the estuary at the time showed multiple dead eels of different lengths, as well as a dead fish, floating near the water's surface.
One image showed a dead eel surrounded by rubbish including what appeared to be about 20 small pieces of plastic.
Council team leader compliance response south Dirk Timp says: "We have been unable to establish what killed these eels.
"When we arrived on site, there were no obvious signs the water was polluted and we were unable to establish the source of a potential discharge.
"Further testing upstream showed the water was within normal pH levels.
"We conducted follow-up site visits to this location over the next two weeks, however nothing was found.
"We also haven't received any additional complaints regarding the waterway to date."
According to the Department of Conservation (DoC), there are two main types of eel in New Zealand, the shortfin and longfin. Longfin eels can be found throughout the country.
Timp encourages people who know what may have killed the eels in the Huntington Park estuary to contact the council.
"If anyone has any information, they should report this to council with as much information as possible, by calling 301 0101."
The reference number for the incident is 8110363397.