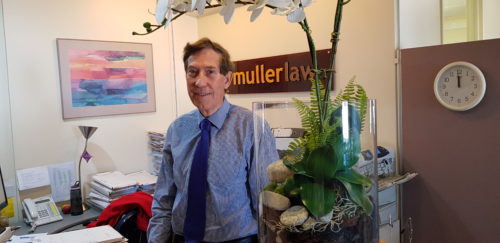 It was a Frenchman Jean-Baptiste Alphonse Karr who said (in French) in 1949: "The more things change, the more they stay the same".
Even 40 years after establishing a successful law firm, founder David Muller admits that while there have been major technological advances (think document scanning, email, mobile phones), some things haven't changed much at all.
"We would have handled billions of dollars of property transactions but it's all very much the same although traffic numbers, for example, and property values are still going up, as is the size of the mortgage," said Muller.
Also very much unchanged is the degree of loyalty the company still generates four decades on. They even retain a typewriter which is occasionally used for certain documents.
Muller, who would only say the firm had 1000s of clients, believes a traditional and conservative approach delivered with a personal and professional touch has won engagement with the community which has spanned three generations with some families. Muller Law hasn't wavered from that traditional approach.
"They (our clients) respect us and I suppose they come because of us," he said.
"You're dealing with people's personal affairs…they're looking for that rapport."
Muller started the firm in 1979 with partner David Rooke. They had both come from Queen Street-based city firm Holmden Horrocks (now in Shortland Street) which had a branch in Pakuranga.
He started there as a law clerk for three years before taking off for his OE.
"We (Muller and Rooke) were both there (Holmden Horrocks) and we decided we wanted to go our own way," said David.
The fledgling firm was half the size back then – the firm today has 10 staff of which six are lawyers – and had one of the original offices at Pakuranga Plaza. It is still there today.
As is the case with many start-ups, the formative years weren't easy. There weren't many suburban firms either.
"In those days you couldn't advertise. It was hard setting up," he said.
"It was a bit of a risk at the time with a new family (he and wife Irene had just had a baby) but we were committed to make it a success."
After some 13 years, he and Rooke parted ways and Muller went it alone, initially with his wife assisting with secretarial duties for a couple of years.
The sole partner continued with a legal executive looking after people's needs and growth from there was organic with the firm evolving to specialise in family, property, conveyancing and wills (estates, trusts). Initially court work was briefed out but now they have their own in-house specialists.
That foundation has been built around good, loyal talent. Legal secretary Helen Norton, has been with the firm for 25 years and partner Shirley-Anne Inglis has almost completed 20 years' with Muller Law. Partner Jennifer Haw has 15 years under her belt and another partner Claire Reynolds arrived 12 years ago.  Legal secretaries Adelyn Loy and Carolyn Taylor have been with the firm for 12 years and 18 years respectively.  Their newest member associate Ian MacDonald who has been with them for two years bringing a range of skills and experience with him as a commercial lawyer.
Adjusting to change is paramount for any company. Whilst law has remained relatively constant, the manner in which finances and documents are exchanged has made enormous differences to the profession.
Online banking is a case in point. Think of a time with bank cheques. "Every Friday we used to physically go into the city to hand over our cheques and collect the clients' title deeds," said David.
"Banks also closed at 3 o'clock then.  There were no faxes so everything went by mail."
The pressures today are greater because email means not having to wait two days for a reply, while accessing information from the Land Registration Office means no more physical documents as it is all online now.
If there's a downside it's on the social interactions, or curtailing of them. "You don't get the collegiality any more. You used to meet other lawyers regularly. I think it's good for young lawyers," said Muller.
"Now you don't really know who you're dealing with, you don't get the exposure."
Meanwhile the firm has always made a point of getting out into the community and contributing "It's something we've done from the beginning and we're very proud of" said David.
Their lawyers contribute pro bono at the Citizens Advice Bureau and it's not unusual to field calls from the CAB offices to help with legal conundrums.  David has also had a long association with the local Lions Club.