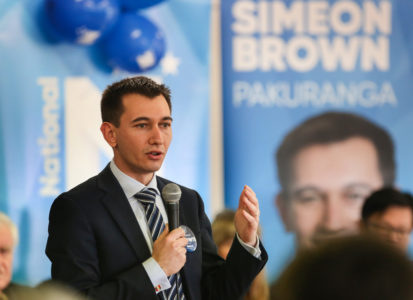 Labour's tax plan fails to consider economic growth and has even raised the eye-brows of its Government coalition partners, Pakuranga MP Simeon Brown says.
Labour last week announced its plan which it says will protect services like health and education and help keep a lid on debt by introducing a new top tax rate for the 2 per cent of Kiwis earning income over $180,000.
"We know New Zealanders want certainty and stability at the moment. This policy is about maintaining investment in important services that are so crucial for New Zealanders like health and education, while keeping tax rates exactly the same as they are now for 98 per cent of people," Labour finance spokesperson Grant Robertson says.
"Our plan strikes a balance as we recover from Covid-19. It will avoid the cuts to services being suggested by the National Party, and also help keep a lid on debt as we support the economic recovery from a 1-in-100 year shock."
However National's Brown is sceptical. "Labour has fallen back on its traditional instinct, which is to base its economic policies on simply taxing us more. This will only be the start, with Labour's support parties both saying this policy doesn't go far enough," he says.
Middle-income earners would be next, he warns.
"We know full well what the Greens want to do when it comes to the economy – tax anything and everything that moves. Labour will inevitably have to make concessions if it wants to stay in Government with the Greens as a coalition partner, which will spell disaster for hard-working Kiwis and their families," says Brown.
"New Zealand cannot simply tax its way back to prosperity from this recession and we are yet to see any sign that the Labour Party understands how to grow the economy or create jobs.
"Only National can get the country back on track and has a plan to do this through growing the economy, driving investment and supporting businesses to retain and grow jobs."
Robertson maintains Labour's balanced revenue policy targets debt and protects essential services like health and education. He says there will be no new taxes or any further increases to income tax next term. The new tax plan would also close loopholes so multi-national corporations pay their fair share.
"The necessary borrowing for the Covid-19 response meant we could fund emergency measures like the wage subsidy, which protected 1.7 million jobs and gave businesses and workers confidence during lockdown. But we have to be careful about not running up more debt than necessary for our recovery," says Robertson.
"I have made it my focus over this term of government to manage our books carefully and bring down debt. That focus will continue. Generating extra revenue now will help keep debt under control.
"The new rate will cost $23 a week for an individual earning $200,000, but it will make a big difference to the country's ability to maintain the investments needed for the economy to bounce back.
"Labour will not implement any new taxes or make any further increases to income tax next term. We have already committed to not raising fuel taxes in the Government transport plan that covers the next term.
The policy is forecast to generate $550 million of revenue a year.
Australians earning over A$180,000 pay a much higher rate of 47 per cent (including the 2 per cent Medicare levy, he says.
ACT leader David Seymour believes Labour's tax plan is divisive populism and will raise little revenue.
"Jacinda Ardern likes to say we're all in this together, but Labour is picking on a small group of New Zealanders to fund the Covid-19 recovery," says Seymour.
"Labour is telling young New Zealanders 'if you study hard, get good grades, get a good job, save money, and invest wisely, we'll tax you harder'. That's the wrong message.
"However, almost no New Zealander will pay 39 percent on income above $180,000 and the tax change won't raise anywhere near the $500 million Labour says it will. Even if it does, that amount of revenue won't begin to repair the fiscal damage Labour has done."