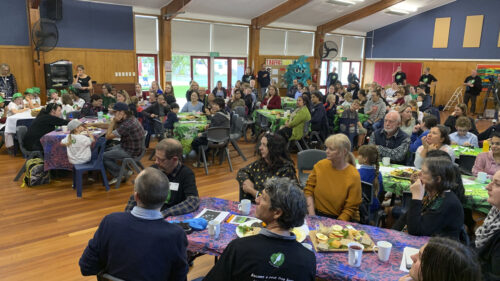 The Eastern Enviroschools cluster has celebrated schools working to reduce waste and eradicate moth plants.
Students, teachers and parents from a variety of Howick Ward schools attended the prizegiving on Wednesday June 9 at Howick Primary School.
Howick Local Board and Auckland Council members also attended.
As previously reported by the Times, the moth pod competition centres around students – either individually or in teams – becoming moth plant crusaders. It is run by Pest Free Howick.
They registered and ventured into the community to collect moth pods from vines.
Described as "pretty but deadly", moth plants are an invasive pest plant which grow and smother native vegetation.
Each pod has 250-1000 parachute-like seeds which can burst and spread. They can nestle themselves in canopies and cause them to collapse.
The $4000 prize pool was split into four categories: preschool, primary, intermediate and secondary. First place won $500, 2nd $300 and 3rd $150.
Lorelle Stranaghan, the co-ordinator of Pest Free Howick, said 23 schools entered this year's competition with 39 teams. "There was more than $4000 in prize money because of the Howick Local Board."
The competition started three years ago. In 2018, 1083 pods were collected.
In 2019, 9,989 were collected.
This year – as last year was cancelled due to Covid-19 – around 55,000 pods were collected – that's 3.8 million seeds that will not germinate.
Winner of the preschool category was Toddler Moth Plant Hunters from New Shots Pakuranga and Just Kidz Flatbush with 1777 pods and small vines.
Super Garden Protectors from Riverina School took gold place for the primary category with 3833 pods and small vines.
For the intermediate schools, The Saplings from Howick Intermediate snatched first place with 2515 pods and small vines.
Secondary schools champions Mel and Tracey from Botany Downs Secondary College triumphed above all with a stunning 8876 pods – the highest in the competition's history.
"It was very tiring," Tracey said.
Mel said the process took several weekends and the Easter holidays. "We would drive around and spot them on fences and trees. South Auckland was a goldmine."
The thickest vine award was given to Pakuranga Heights POD Squad with 13cm wide.
The Saplings from Howick Intermediate snatched the small vines award with 2,000 taken from their roots.
Cate Jessep, Auckland Council's Sustainable School Advisor, said that opening up the competition to early childhood educational centres proved "anyone can be a moth plant champion".
Waste Minimisation certificates were given by Howick Local Board members and Stranaghan. Additionally, students wanted to bring awareness to traffic light bins and the progress they'd made in reducing waste at their schools.
The Deputy Chairperson of the Howick Local Board, John Spiller, said "that the infectious enthusiasm of the participating school children, backed by their teachers, clearly demonstrated to me that the future of both the local and wider environment is already in good hands."
He went on to congratulate all those that were involved. "It's great to see a collaborative effort," he said.
"We wanted to express gratitude the Local Board's tremendous help and support," Stranaghan said. "As well Sustainable Schools and Pest Free Howick Ward."