By Jim Birchall
Eugenie Sage, the Minister of Conservation and Land Information, has been spreading the message of conservation with a local school.
She recently visited Cockle Bay School in conjunction with Squawk Squad's Digital Environmental Education Programme.
Squawk Squad is a social enterprise that combines technology with conservation and education to help save New Zealand's native birds. It allows New Zealanders to take part in a predator-free New Zealand by sponsoring high-tech traps towards conservation projects around the country.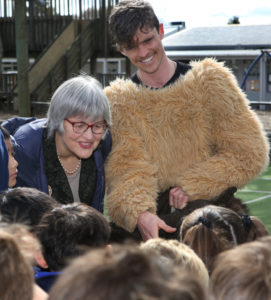 The programme is now in its third year, and the students of Cockle Bay School have embraced its principles which aim to educate tamariki on New Zealand's environmental issues such as pest and predator eradication, conservation of New Zealand Birds of Prey and the Whio, Kauri dieback, marine ecology, kaitiakitanga, and climate change.
The school has embarked on an 'Enviro school's journey' which includes students being involved in reducing waste, new native plantings, solar panels and a swimming pool run from tank water. Ms. Sage was treated to an excellent speech from room five's Abbie, who spoke eloquently about the dangers of plastic getting into the sea, pollution from cars, reducing methane with nude food lunchboxes and how today's children are entrusted with the guardianship of the environment, and it's preservation for future generations.