Talk about digging up dirt.
With gum boots and spades in hand, groups of Rotarians and the Chinese community got their hands dirty, planting saplings of pioneer and specimen plants at the Mangemangeroa Reserve.
The tree planting initiative by the Rotary Club of Howick and the Rotary Club of Somerville had a huge representation from the Pakuranga Chinese Association, along with a group of ex-Chinese military. More than 40 Air Cadets and Friends of Mangemangeroa Reserve also contributed to planting 1000 trees on Saturday morning.
Also there was Mike Turinsky, of the Howick Local Board for Botany with Simeon Brown, MP for Pakuranga,  and wife Rebecca working towards Phil Goff's goal of planting one billion trees over 10 years.
Rotarian Jim Duckworth, who has lived right next door since 1950, has been tree planting since 1999 when Friends Of Mangemangeroa was formally established. Last year they planted more than 5000 tress.
"This morning we planted totara, manuka as well as a lot of kahikatea, a native tree that grows quite tall. It's a specimen tree. All the seeds are propagated by Forest and Bird as well as Somerville Intermediate School and Friends of Mangemangeroa.
"We are working towards reforestation in a manner that goes well with the existing flora and fauna. The Chinese community has been strongly supportive and we are appreciative of their contribution," he says.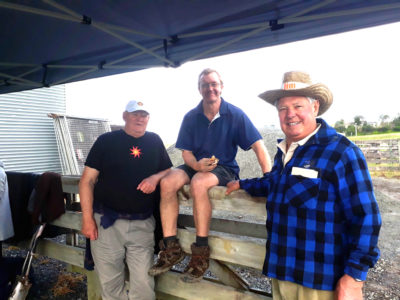 Giving due credit to Alan Riley, chair of Friends of Mangemangeroa he says, "Alan who is also a Rotarian has done a huge amount of work over the years and continues to do so.
"We are keen for the council to keep the track clear after the slips and are disappointed that they have not been fast enough in clearing it but we do know that it will happen in due course."
A bbq after the planting was held to thank volunteers.