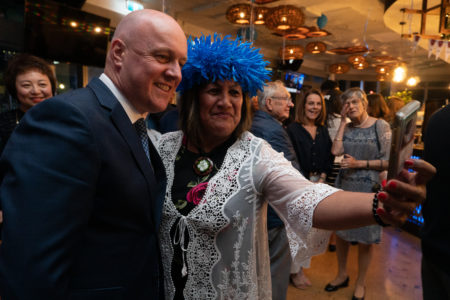 What a night on the hustings. General Election 2020 saw National record its worst showing since 2002.
Labour recorded an historic win claiming 49.1 per cent of votes (winning 64 seats) with National collecting 26.8 per cent (35 seats).
Labour can easily Govern outright however if it chooses to take the Greens on as a coalition partner, they would have another 10 seats.
The surprise of the night was the Maori Party claiming a seat and getting back into parliament after being ousted last election.  Rawiri Waititi took the seat from Tāmati Coffey in Labour's only loss of an electorate on the night (assuming special votes don't alter the outcome). ACT had a particularly strong outing taking 8 per cent of the votes claiming 10 seats.
Saturday night's results mean local candidates Naisi Chen (Labour) and Damien Smith (ACT) get into Parliament on their party lists.
The Botany seat was returned to National on Saturday night after debutant Christopher Luxon won the seat with a margin of 4771 (total 16,661) against Chen.
Simeon Brown comfortably retained his Pakuranga seat for National with a massive margin of 9756 (he collected 18,977 votes in total).
Labour claimed the party vote in Pakuranga (40.3 per cent v 39.9 per cent) and Botany (Labour 45.5 per cent v National 38.6 per cent). However the Pakuranga numbers particularly could change once special votes are counted.
Hype from the Advance NZ Party and its co-leader Jami-Lee Ross – the former Botany MP – proved just that with the party collecting just a total of 20,841 votes in all – less than 1 per cent of total votes cast in NZ. Also consigned to history is the kingmaker Winston Peters and his NZ First party which was pivotal at the last election.
The results are based on the 2,397,117 votes counted on election day, which includes 15,645 party informal votes (votes where the voter's intention wasn't clear).  A small number of outstanding results were finalised on Sunday and numbers updated at www.electionresults.govt.nz.
Special declaration votes still to be counted are estimated at 480,000 (17 per cent of total votes). This includes an estimated 66,000 overseas and dictation votes.
The total estimated votes (those counted on election night plus estimated special votes still to be counted) is 2,877,117.
Voter turnout for the 2020 General Election is estimated to be 82.5 per cent of those enrolled as at 6pm Friday October 16.  This compares with a final 79.8 per cent turnout of those enrolled in 2017.
Enrolment applications are still being processed.  By 6pm on Friday October 16, 3,487,654 people were enrolled, or 92.5 per cent of eligible voters. The final enrolment rate in 2017 was 92.4 per cent.
A total of 1,976,996 people are estimated to have voted in advance which is estimated to be 69 per cent of total votes cast.  In 2017, 47 per cent of votes were cast in advance.
Referendum results
Preliminary results for the end of life choice and cannabis referendums will be available on Friday 30 October 2020.
Official results process
The official results process starts is expected to be completed in 20 days.  All advance and election day votes will be recounted. Special declaration votes will be processed and counted. All referendum votes will be counted. The target to release the Official Results of the 2020 General Election and referendums is 2pm on Friday November 6.