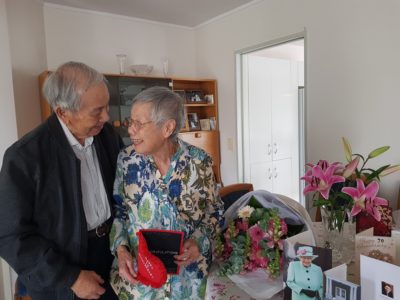 Jim and Evelyn Ngan have been in love for 70 years
On Sunday morning, they thought they were going out for coffee with their daughter Andrea, and were surprised when neighbours from the street in Northpark dropped in to wish them well, says Jim who celebrated his 90th birthday this month.
Jim was equally baffled when they received a congratulatory card from the Queen.
"I thought someone was pulling a fast one on us and had done a rather good job with it," he laughs.
It was only after they received congratulatory cards from Prime Minister Jacinda Ardern, Governor General Patsy Reddy and a letter from Botany MP Christopher Luxon on their milestone anniversary that it dawned on him that both, his daughter Andrea and son Garry had asked him earlier for their marriage certificate, which he thought was rather odd at the time.
Love at first sight
"I fell in love, the minute I saw her when she landed from China. We were both 18 then.
Three months later, we were engaged and 18 months on we got married," he recalls with clarity.
Circa 1939, Jim arrived in New Zealand from China with his mum. He was only nine then.
"My grandfather and dad were already living in New Zealand prior to us joining them. Those were very hard times during war. It took us a month to sail from Hong Kong to Sydney by Lee Loy. We spent two weeks in Sydney and then sailed to New Zealand by trans-Tasman liner Awatea," one of the finest and fastest ships of its size in the world at the outbreak of the Second World War.
When Jim met Evelyn
The nonagenarian says that both their dads were good friends. "Evelyn's dad was looking for someone who spoke English to accompany him to meet his daughter when she arrived by sea in Wellington. I agreed to help," he says.
It all translated into love, as they got married on March 14, 1951 at the Wellington Central Baptist Church.
Evelyn says it was the first wedding she attended.
The couple raised five children Dennis, Terry, Stephen, Garry and Andrea and are grandparents to ten grandchildren and one great-grandchild.
Proudly showing off their photographs, Jim says "All of them are graduates except for the younger three who are still at school."
Jim and Evelyn moved to Auckland from Lower Hutt in 1998 after years of running their own business, including a produce shop, fish and chips takeaway and a lending library in Wainuiomata–"till television killed people's love for books," says Jim.
Secret of a long-lasting marriage
Evelyn fondly says, "Jim never argues. He has always been very loving, quiet and gentle."
Jim adds saying, "We've had our share of ups and downs but never had a big fight. Life is too short for that."