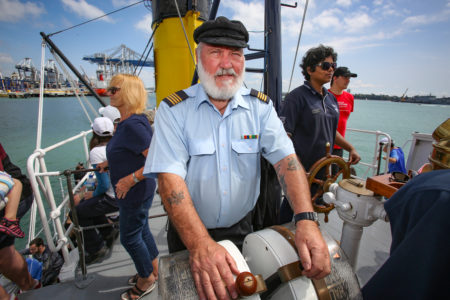 Rosa Chow and Keith Ingram, both of Half Moon Bay, have been recognised in the 2021 New Year Honours.
Ingram was made a Member of New Zealand Order of Merit (MNZM) for services to the fishing and maritime industry.
Chow was awarded The Queen's Service Medal (QSM) for services to immigrant communities.
Ingram is recognised as a maritime industry and recreational fishing advocate who has been a member of the New Zealand Recreational Fishing Council for the past 35 years, including 12 years as president. He is a past president of the New Zealand Marine Transport Association (NZMTA), where he contributed significantly to the Maritime Transport Act 1994.
He remains on the Board of the NZMTA, having been a committee member for more than 30 years. He was a Field Editor for Boating NZ Magazine for 10 years, before establishing Professional Skipper Magazine, recognised as a leading maritime journal now in its 25th year. He remains an advisor to Maritime New Zealand, the Ministry of Fisheries, the Department of Conservation and the New Zealand Shipping and Fishing industries.
He has been the Patron for the Tug William C. Daldy Preservation Society since 2008 and a marine assessor to the Transport Accident Investigation Commission.
As a past Commodore of the Bucklands Beach Yacht Club, he remains a Vice-Patron of the club, where he was instrumental in the development of the 'Women in Command' training course now adopted by New Zealand Coastguard Education.
Ingram opened the way for Sea Cadet pre-sea training and women at sea to be accepted as part of the maritime industry. Awards have included Magazine Publisher's Awards, Highly Commended Editor of the Year 2009 and Journalist of the Year 2012.
Chow has actively contributed to the Howick community since emigrating from Hong Kong. She has been a board member at Macleans College for several terms and made major efforts in connecting the college with its Chinese parents and communities to increase engagement.
She has been a key member of the Asian Council on Reducing Crime for 14 years, including time as chairperson, the focus of which was to reduce street crime.
Her work with the council has mobilised people to volunteer in community services, such as organising a foot patrol group, and enhanced knowledge and crime prevention, financial literacy, and business skills. She has been a member of both the Police National Ethnic Advisory Forum and the Police Asian District Advisory Board.
She is an active member of the St Mark's Catholic Church in Pakuranga. Chow has received several local awards, including the Howick Local Board My Place Award for migrants who have embraced the local community by way of community service and involvement.