Damian Light (Independent)
Standing for a Howick seat on Auckland Council
Damian Light lives in Botany, having lived and worked in Auckland his entire life. Growing up in a large family he learned the value of hard work, honesty and respect.
The son of a builder, Damian knows the value of practical solutions and getting stuck in. Damian has volunteered for community organisations across the city helping to fundraise, raise awareness and support those in need. From planting trees to community patrols, he works hard for the community.
For more than a decade Damian has worked as a problem solver, helping large organisations improve their delivery and reduce costs. This means understanding the issues, exploring options and working with people to take meaningful action. During this time he's managed staff, led teams and delivered transformational change.
Damian wants to see change at council, to ensure local voices are heard and get much needed investment. He'll challenge reckless spending, put the handbrake on rates rises and ensure cost effective delivery.
He'll ensure the billions invested into transport delivers on reducing congestion, improving safety and making our transport fit for a growing city. Damian will ensure development doesn't come at the cost of the environment, by investing in infrastructure, clean water and taking action on climate change.
Damian will continue to be available in the community so issues like Stockade Hill don't happen, ensuring that local voices are heard and council is open and accountable.
Damian has the business and governance experience, combined with strong community connections to deliver positive change for our city.
Richie Barnett (C&R – Communities & Residents)
Barnett contests Howick subdivsion 
Former professional rugby league footballer Richie Barnett will stand for the Local Board at this year's Auckland elections.
Barnett, a New Zealand international, will be running as a C&R – Communities & Residents – candidate for the Howick subdivision of the Howick Local Board.
Barnett has lived with his wife and two children in Howick for many years while representing New Zealand as a Kiwis rugby league captain. He is passionate about the communities' interests in sports and recreation.
An independent board member of 'Te Ira (helping whanau build a better tomorrow today) and Sky Sports commentator of 10 years, Barnett founded a charity to support youth development and personal life coaching. He is passionate about helping people reach their full potential, having run programmes in local schools and businesses.
"I love celebrating our unique Howick culture and strongly believe people are the back bone of our community. I look forward to the opportunity of serving our residents and ensuring they have an experienced and local voice," says Barnett.
"Richie's leadership and governance acumen will be an asset to the local board," his media release said.
Joining him on the C&R Howick Local Board ticket are Pakuranga subdivision candidates Garry Boles, Katrina Bungard and David Collings, and Botany subdivision candidates Nivedita Sharma Vij, Bob Wichman and Peter Young.
"C&R is the most experienced political group in Auckland local government. As a centre-right organisation, its values include local community-focused decision-making, responsible budget management and growth at an affordable pace.
"C&R will introduce new ways of funding infrastructure and will keep Auckland moving by placing much greater scrutiny on Auckland Transport."
Sharon Stewart QSM (Independent)
Standing for a Howick seat on Auckland Council
Sharon Stewart has lived most of her life in Howick and is passionate about serving the community.
She has over the years been awarded two great honours, Howick Citizen of the Year and the Queen Service Medal for public service (1998).
Sharon was very involved in petitioning to get better conditions in all public hospitals and fundraising for the IHC.
Having a long family history within the district extending over more than 100 years, Sharon understands her community and is known to be passionate about the welfare and future of Howick.
She feels strongly about saving the views over Stockade Hill and Crawford Reserve and says that both she and the late Councillor Dick Quax didn't support much of the Unitary Plan especially in parts of Howick/Pakuranga.
Sharon chairs Auckland Council's Civil Defence and Emergency Management Committee
and has been very involved in improving stormwater and flooding issues.
"I would like AT to reconsider the T2 and bus lanes on Pakuranga Road and also make sure that the bus routes are more useful for the people of Howick/Pakuranga and Botany," she says.
Sharon is a patron of Howick Tennis Club as well a patron of Howick Croquet, Fencibles United AFC and supports Pakuranga Rugby Club and the Air Training Corp. She is also a member of the Howick RSA and Howick Club.
She says she will continue to push for the upgrading of local sporting grounds like William Green, Lloyd Elsmore and Barry Curtis Park and that she hasn't lost her passion for helping people of all cultures with any problems no matter how big or small.
"I look forward to continuing my service to the people of Howick, Pakuranga, Botany and Flat Bush."
Barry Wood (Independent)
Standing for Howick Local Board
Howick subdivision
A resident of Cockle Bay for 27 years and being retired, I have the time and energy to represent you for better outcomes for our community and environment.
I have volunteered for thousands of hours ensuring we have a sustainable fishery, clean environment, cleaning streams, beaches and planting trees in our reserves.
Some present board members have held their positions for many years and I believe we need change and new blood.
Over the last year I reported to board and council many issues impacting on our local community and very few have been satisfactorily resolved.
Our beaches, parks and reserves have been neglected by council over the years and I will work to resolve this.
We need to have confidence in council services and it is clear there is a problem.
By working smarter and cutting council waste we can keep rate increases to a reasonable level.
My promise to you if elected is not only to attend the normal council meetings but to be your representative out in the community.
To me there appears to be a break down between council and our board getting this work done and I will make it my mission to resolve this by logging problems and reporting monthly on progress.
I have a track record of getting things done and, when confronted with a problem, I am like a dog with a bone and will not let go till a solution has been found.
My success is in your hands.
Dale Smith 
Standing for Howick Local Board
Pakuranga Subdivision
Public Servant Dale Smith has announced his candidacy for the Pakuranga subdivision of the Howick Local Board.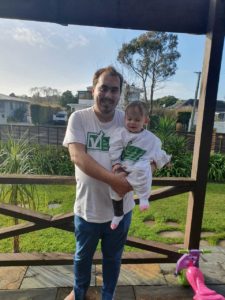 Standing on a basis of more transparency and active communication around the Auckland Manukau Eastern Transport Initiative (AMETI) with residents not being asked to be proactive in their research.
"I believe that it shouldn't be the job of Howick residents to have to attend meetings and contact public officials to simply be kept updated on key issues, including the massive AMETI project" says Dale.
Having grown up and lived in Auckland all his life, Dale has a passion for the Auckland we live in and is a passionate believer in turning the SuperCity into the world's most liveable city.
He has worked with Auckland Transport and has been on multiple boards, including chairperson of the Kaipatiki Local Youth Board.
Some of the key issues he finds in Howick relate to the lack of shades and maintained playgrounds around the area, continuing and finishing the purpose-built youth centre and continuing the support for our community groups to be listened to.
"It's not simply enough that residents, similar to those around Tarnica Park (in Northpark) are thrown money at and told to keep quiet. A vote for change this election will see residents listened to and thriving. You can be sure that the income provided from the position won't mean, like the incumbents, that alternative employment will get in the way of an opportunity to represent the hard-working people of Howick."
There are 21 mayoral candidates, 54 people vying for councillor roles, and 348 people contesting local board positions.
Standing for the Howick seat on Auckland Council are incumbents Sharon Stewart (Independent) and Paul Young (Independent) as well as current Howick Local Board chair David Collings (Collings for Council), Botany's Damian Light (Independent) and Howick's Tofik Mamedov (East Vision).
There are also 83 candidates for the three Auckland DHBs (compared to 72 in 2016) and 61 candidates for the five licensing trusts (compared to 63 in 2016).
Auckland Council consists of a mayor, 20 councillors and 149 local board members. A total of 468 candidates stood for council in 2016.
Howick Local Board (Botany Subdivision)
HARDING Ashleigh Independent; JOHNSON Mark Labour Party; MEHDI Masooma; MILLWARD Lance Labour Party; SHARMA VIJ Nivedita C&R – Communities and Residents; SINGH Ajaypal;
SINGH Kharag Labour Party; TURINSKY Mike, Practical not Political; WICHMAN Bob C&R – Communities and Residents; YOUNG Peter C&R – Communities and Residents/
Howick Local Board (Howick Subdivision)
ANDREWS Jess East Vision; BARNETT Richie C&R – Communities and Residents; BURNS Bo weknowhowick; DONALD Jim Independent; SHEEHY Matthew Independent; SPILLER John weknowhowick; STEWART Sharon Independent; WHITE Adele weknowhowick;
WOOD Barry Independent.
Howick Local Board (Pakuranga Subdivision)
BALOCH Khalyd; BOLES Garry C&R – Communities and Residents; BUNGARD Katrina C&R – Communities and Residents; COLLINGS David C&R – Communities and Residents; FLEMING Peter Independent; HUANG Wayne; KENDALL Bruce ; MAMEDOV Tofik East Vision; SMITH Dale; UDY Steve Independent; XIAO Morgan East Vision
If your election profile hasn't featured in the Times yet, please send 250 words and a photo to editor@times.co.nz