By Hannah Williams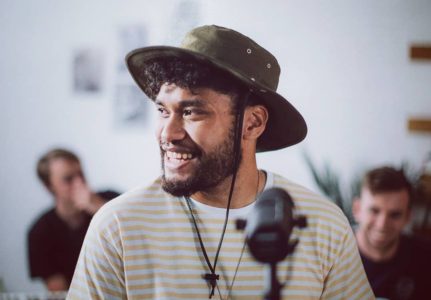 Local artist Lepani Tuifagalele is getting a lot of attention after his recent debut single 'Pocket Full of Love' sizzled its way up the music charts.
An ex-Macleans College student, he recently signed with Sony after deciding to take the jump and make music his full-time career despite some hesitation.
The attention is well-deserved for the singer who says music helped him get through tough times during college. He hopes the music he writes will help others as well.
"When I'm feeling down or upset, I'll sit with my guitar or at the piano and just play. I'll play what I'm feeling, sometimes there's no words, just a rhythm and just by sitting there playing, letting out my emotions, has helped me," he says.
"When my music is being made, I'm telling a story they can relate to, hopefully, and that can help them."
Born in Fiji, the singer moved to Rotorua at 4 but it was after moving to Auckland at 14 Lepani got involved in music at school, which started his road to success.
It began as some down-time between friends but became so much more as he realised the potential opportunities.
"My mates Rohan and Luke introduced me to new music like Pink Floyd, The Eagles, AC/DC, and that got me into different genres and we started messing around, writing and playing and then we started a band and that got me going, got me more involved in music," he says.
"If it wasn't for the band I wouldn't be here."
With a musically-inclined family, the sound of music has surrounded him from a young age and a dedicated teacher from Macleans College influenced him to go further when he started singing at 14.
"Everyone sings in my family, at least one person plays some kind of instrument so being surrounded by that has influenced me as an artist," Lepani says.
Music teacher Nigel Weeks pushed him to start writing and take his love for music to the next level.
"He let us play what we wanted, he appreciated the stuff we made despite being a classical teacher."
He puts his continued dedication down to friends and family who helped and challenged him to keep going.
"I didn't know what I was going to do, so I kept making music but it was just an outlet, but Rohan persuaded me to send it in when the opportunity came," he says.
Despite being an instant hit in the New Zealand charts racking up over 390,000 listens, Lepani says he wants his music to do more then just be a catchy tune.
"Music has layers to it and every time you listen, you feel or find something new within the lyrics and sounds, it becomes more relatable every time you listen to it."
With his dedication and determination it is highly likely Lepani will become a household name.
His hit single 'Pocket Full of Love' is streaming across NZ radio stations now.