The Howick Historical Village is turning 40.
The Howick and Districts Historical Society will celebrate four decades since the opening of the Howick Historical Village in 1980 with a series of themed events and activities.
Society president Marin Burgess says an afternoon tea for all members, supporters and volunteers who have helped out so generously over the past forty years is planned along with a massive 'Live Day' on March 15 to which the public are invited.
A photo montage of how the village buildings looked before, and as they arrived – as well as how many arrived in the dead of night escorted by keen volunteers to ensure no damage occurred – will be on show in the cottages. There are now more than 35 buildings in the village which remains true to the original plans drawn up by the society with assistance from Manukau City's Mayor of the time, Sir Lloyd Elsmore.
The heritage gardens showcase plants and vegetables of the era and care has been taken with vistas to ensure no modern features intrude.
"Many thousands of people, both local and tourists, have visited over the 40 years with a common theme being, 'I came here as a pupil on a school visit,'" says Burgess.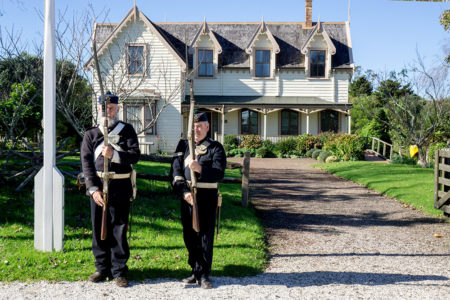 "We'd encourage all those now grown school visitors to return on March 15 to see how the village has grown. The education programme started in 1981 remains our most successful activity and hosts more than 80 schools annually.
Burgess says the Howick Historical Village is now recognised as a respected living history museum in the tourism and education arenas of Auckland City.
"This success is clearly a result of much hard work, support and encouragement from many people. We've had bureaucratic battles, adjusted visions, moved buildings, fought for funds, and still present as an authentic environment showing not only the unique Fencible story but a much wider history of Auckland's early development in an outstanding and appealing manner," she says.
"We have held our entrance fees to $16 for adults, $12 for seniors and $8 for children over 5. We open 7 days a week, 10am to last entrance at 4pm, and look forward to welcoming you for a return visit or for your first visit."