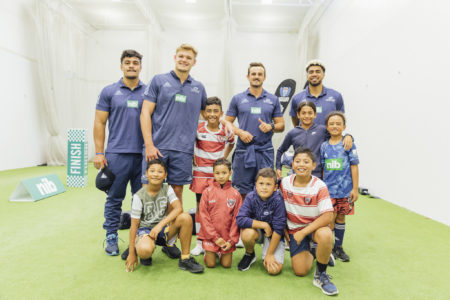 Nib New Zealand (nib) has partnered with the Blues Super Rugby team to launch its nib Little Legends Little Smiles initiative.
It gives 1000 PIC Junior Rugby players the ultimate protection with their very own OPRO custom-fit mouthguards – the same worn by Blues players during Super Rugby Aotearoa.
Designed to support the better health of New Zealand's rugby community, the programme aims to help keep our littlest rugby players safe while they take part in the game they love, helping to reduce the likelihood of injury.
PIC Junior Rugby players (aged 5-12 years) from Ponsonby, College Rifles, Pakuranga, Papatoetoe, Otahuhu and Manukau rugby clubs were selected to take part in the programme.
To help our Little Legends fit their custom mouthguards, nib's check-up truck was on site for the Papatoetoe, Otahuhu and Manukau clubs' weigh in days last week, along with several Blues players to lend a helping hand.
"It's been a tough year for everyone, and many sports clubs haven't been able to train or play as planned. As the new season kicks off, we wanted to give back and ensure that our junior players are protected by the best, so they can remain healthy both on and off the field," nib New Zealand chief executive officer, Rob Hennin said.