AT ONLY 13 years of age, Kirsten Dodgen is already a world champion.
The Elim Christian College student is a member of Hip Hop International junior division world champion crew Bubblegum.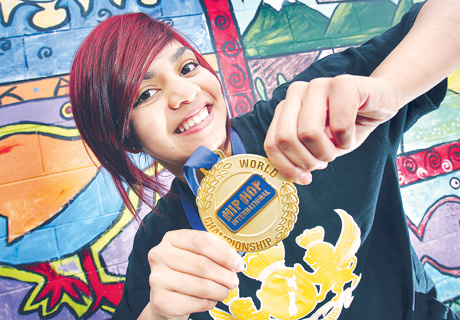 Teams from 40 countries descended on Las Vegas last month for the 10th anniversary of the event.
Bubblegum were joined by varsity team Sorority and megacrew The Royal Family as first-place getters in their divisions. All of the crews rehearse at The Palace Studio and are led by choreographer Parris Goebel.
Kirsten, who lives in East Tamaki, has been trained in a number of dance styles but hip hop is where her heart is.
"Hip hop is my passion," says the Year 9 student. "I can't stop dancing, it's like I go into a different world."
Bubblegum is made up of eight boys and girls aged 10 to 13. Kirsten had wanted to join the crew since it placed fifth at last year's event.
To improve on that result, the dancers train for six hours each Saturday which was then ramped up to daily sessions leading into the championships.
"It all paid off on the stage," Kirsten says. "We earned the highest ever junior score and one of the highest scores on the night – 8.37 out of 10."
The group performed one song in which they mixed four different styles – whacking, locking, popping and new jack.
"Whacking is movements with your arms while keeping your posture straight," Kirsten says. "Popping is more precise and making sure your moves are on point."
The trip was Kirsten's second to the world champs. She placed sixth in 2008 with De Ja Vu before linking with Goebel and The Palace last year.
"Parris is one of the top people in hip hop in the world," she says. "When I first joined, it was scary because I didn't know what her expectations would be."
The taskmaster's gruelling training regime worked wonders as the team won each preliminary round by a big margin, including a defeat of last year's winners from Japan.
"It was mind-blowing," says Kirsten. "When we won, the other crews and some of the judges were saying, 'you're so good, I can't believe you come from a small country like New Zealand'."
By: DANIEL SILVERTON