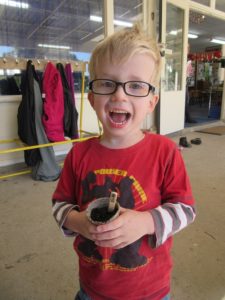 An amazing 11,612 kindy kids around New Zealand – including many local children – will be cultivating their gardening skills whilst competing with other kindergartens in their region to grow the tallest sunflower or widest sunflower head.
The 2017 Daltons Sunflowers in Kindergartens Project runs until Wednesday December 6, with winners announced on December 8.
There are 220 kindergartens taking part in the project through 10 kindergarten associations This year there are 66 kindergartens participating throughout Auckland and each has been sent a Daltons starter pack with everything the children need to grow their own Kings Seeds Skyscraper sunflowers, which have the potential to grow up to 4 metres high.
The tallest sunflower ever grown in the project's history was a massive 3.12 metres tall, and a previous sunflower grew through the roof of a kindergarten deck, much to the delight of the little gardeners. Local participants include Botany Downs Kindergarten, Bucklands Beach Kindergarten, Highland Park Kindergarten, Howick Kindergarten, KiNZ East Tamaki, KiNZ Mission Heights, Pigeon Mountain Kindergarten and Somerville Kindergarten.
Highland Park Kindergarten teacher Brittany Oldfield said: "Our children have had a long association with gardening and with Daltons as this is something that we as a kindergarten have always participated in. Recently our children and families have been asked to bring into kindergarten a plant or a cutting that we could put into our garden as part of our Matariki celebration.
"Being part of the Dalton's programme has only continued to spark our children's interest in gardening, where we have set up a station with the equipment needed for the children to sow their seeds. The children are very eager to see what is happening with their seeds and they have a place where they can stand and watch them grow through a window.
Bucklands Beach Kindergarten teacher Tanya Lyons said: "Over the last few years we have found that growing the sunflowers is a fun learning experience for the children. They are able to experience the growth of nature from seed to full flower.
"They learn to be responsible in caring for them, they see that some grow better than others – or get eaten by bugs, they learn mathematics concepts such as measurement, shapes and numbers. It is a real hands-on science experience.  Our children really do take a great deal of pride and enjoyment watching their sunflower sprout and grow so tall."
The project is not just about the competition –  children will learn valuable gardening skills and knowledge; like sowing seeds, caring for seedlings, planting them out in the garden and daily care of their plants. The project also offers a range of activities and learning opportunities that teachers can integrate into aspects of the early childhood education curriculum.
Daltons general manager Colin Parker is thrilled with the return of the project this year, and cannot wait to see what the kids produce.
"These youngsters are our future gardeners and we want to nurture them from the get-go. The competition aspect adds a little extra fun to the project for the children, but we are more focused on creating opportunities to spark a lifelong love of gardening. Getting them out in the garden and growing their own sunflower is a fantastic way for these children to build confidence through hands on experience and learn about the wonders of plants."