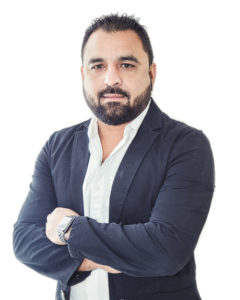 A significant immigration ruling could impact hundreds of international students thanks to a local immigration consultant.
After challenging Immigration New Zealand on a decision it had made regarding a client's case, Saif Shaikh, director of East Tamaki business Immigration Advice NZ, demanded INZ review the case.
The request was turned down so he took the complaint to the Office of Ombudsman. After a thorough investigation, a decision was returned in favour of his client Arshdeep Kaur Sandhu.
Shaikh says the Ombudsman's finding and recommendation that Sandhu is eligible for a three-year visa benefits many other similarly-placed applicants.
A former immigration officer with INZ, Shaikh says that students from India, most of whom had spent a "fortune" to study in New Zealand, are bewildered with the changing immigration student and work visa rules that are blurred and confusing for most.
He says that Sandhu, who has had a spate of misfortunes with the educational institutes she was enrolled at, was shocked when she received notice from Immigration NZ that she had to return home to India by October 25, 2020.
She was under the impression that she was eligible for a three-year Open Job Search Visa.
A Facebook post on the Immigration Advice Ltd says Ms Sandhu had made an application from India to study in NZ prior to August 8, 2018.
On completion of her study, Sandhu was issued a Student Visa to study English Language, Level 4. On completion, she was granted a student visa to complete her Business Diploma.
In 2019, she then applied for her 3-year Post Study Open Work Visa after completing her diploma.
INZ refused to grant Sandhu the visa. According to INZ, she was entitled to a one-year Post Study Open Work Visa only.
Shaikh argued that INZ made a procedural error in refusing to grant her a three-year visa.
The complaint was dismissed. INZ insisted that its immigration officer did not commit an error in issuing a one-year visa only.
"The Office of Ombudsman reviewed our complaint and decided to investigate it," he says.
"We are happy to announce that in the opinion of the Office of Ombudsman, INZ acted unreasonably in granting Ms Sandhu a visa for a period of one year.
"The Office of Ombudsman recommended that INZ extend or reissue Ms Sandhu's visa to reflect three-year duration. The Office of Ombudsman directed INZ should amend the Immigration Instructions and VisaPak."
Saif says that over the last few months Immigration Advice NZ Ltd has been contacted by many applicants "who have been disadvantaged by INZ's error as they have been granted a one year Open Job Search Visa instead of a three visa.
"We are positive this news will bring much relief to applicants who should have been granted a three-year Open Job Search Visa."
At press time, Shaikh says INZ had just announced a change of rules.