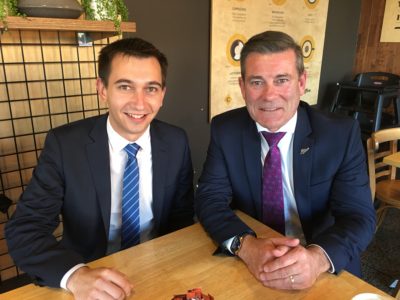 While party hoardings are no surprise close to a general election, it's not often you see New Zealand's Immigration Minister as a human billboard.
Michael Woodhouse took to the streets to campaign alongside Simeon Brown last Wednesday evening before taking on the role of quiz master at National's annual Pakuranga Electorate quiz night.
"I love human hoardings, its great fun. Although, I don't usually do it in a suit," he laughs.
The Dunedin local says whether he's campaigning on the streets or ensuring high quality migrants are filling skill shortages, he considers himself lucky to be in a position to help grow a strong economy and labour force for New Zealand.
He says recent changes to temporary work visa conditions for migrants reflects that far more people want to stay in New Zealand permanently than the residents programme has the capacity to respond to.
In the tweaks to temporary migration that were put into action on Tuesday, the government introduced a maximum duration of three years for lower skilled Essential Skills visa-holders.
The change applies to those earning less than $41,538 a year and after the three years migrants would need to spend 12 months outside of New Zealand before they were eligible for another visa to work in another lower-skilled role.
Woodhouse says the changes will also help strike the right balance between ensuring Kiwis are at the front of the queue for jobs and making sure employers have access to temporary migrant workers where there are shortages to sustain economic growth.
He says it also ensures lower-skilled migrants were clear about their future prospects in New Zealand.
"It had been worrying me that people had been here a very long time for no pathway to residency," Woodhouse says.
"Being honest with them and being very clear with them on the prospects that they have for staying permanently when they do arrive is very important."
Woodhouse says we are fortunate, because these problems are the positive challenges of growth.
"I'd much rather have that than the challenges of trying to stem the tide of New Zealanders flying offshore and a flaccid economy, because we certainly don't have that."