By Ken Scott, President Howick Village Association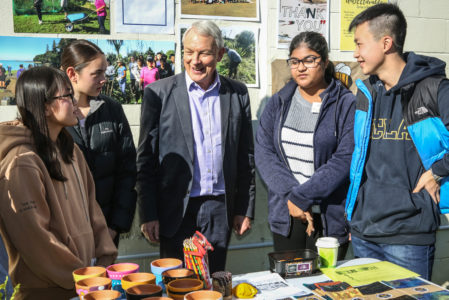 Howickians, pat yourselves on the back.
What a great turnout in Howick Village on Saturday 29th June to celebrate our inaugural Eco-Day, a community event organised by the Howick Village Association (HVA) to support sustainability and environmentally friendly practices.
With superb weather and our Mayor Phil Goff here to support the event, everyone enjoyed the occasion. Go to our facebook page www.facebook.com/howickvillageshopping to see all the photos of our enthusiastic supporters.
The response was tremendous, from the schools who provided educational displays, Howick Historical Society, Auckland Council with their displays on Kauri dieback, noxious weed removal and pest trapping, to bee protection and worm composting.
Recycling took a front seat with spots to drop off old mobile phones, e-waste, good quality books, old used medicines, pre-loved bras, swimwear and underwear, glasses/contact lenses, hotel shampoos/soaps, and clean plastic bread bags.
Collections of old used medicines and clean plastic bread bags will continue at the Howick Village pharmacies and 101 Howick respectively.
What would it take to make Howick Village the first sustainable village in New Zealand?
Please provide your ideas to our Village Manager Jane Newbury at manager@howickvillage.co.nz
To mark the end of single use plastic bags, Howick has celebrated in style.
Remember every small gesture is a step to protecting the future of our planet.
Reduce, Reuse, Recycle, Repeat.