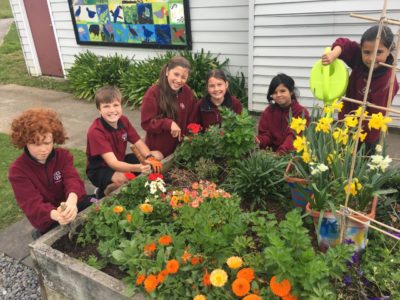 The kids at Howick Primary School are diverting the Howick community's oral care waste from landfill for their chance to win one of two recycled community garden sets, as part a national recycling competition run by Colgate and global recycling pioneers TerraCycle.
Between 1 August and 16 November 2018, the Colgate Community Garden Challenge invites pre, primary and secondary schools nationwide to collect all brands of oral care waste and send it to TerraCycle – who will give the waste a second life by creating new products.
Two recycled community garden sets will be awarded to two schools, with each set including one garden bed, one park bench and one bin, plus a $300 gardening voucher to buy seeds and plants.
Besides showing how recycled materials can be used as a sustainable alternative to virgin plastic, Colgate and TerraCycle hope the sets will promote gardening and healthy eating among schools.
Howick Primary School teacher Samantha Searle said the competition was a great way for the students to learn about sustainability.
"Recycling oral care waste in the Colgate Community Garden Challenge has helped bring our school and the community together to care for our environment," Miss Searle said. "Winning a recycled community garden set would be a great opportunity for the kids to learn how to grow their own food."
The Howick community is encouraged to drop their used oral care products at Howick Primary School to be recycled, and vote for them every day online at www.terracycle.co.nz/colgategardenvoting.
"At TerraCycle, we want to 'Eliminate the Idea of Waste' and a perfect place to start is with schools," Jean Bailliard, General Manager of TerraCycle Australia, said. "We want to thank the kids at Howick Primary School for their amazing recycling work, and wish them all the best in the competition!"
Schools can visit www.terracycle.co.nz/colgategarden to join the competition, access posters and resources to get started, and to watch their competition ranking on a digital leaderboard.
The Competition
The competition will have two winners: one will be the school that earns the most Garden Points; the other will be drawn at random. Each win a recycled community garden set.
Accepted oral care waste includes: any brand of toothpaste tubes and caps, toothbrushes, toothbrush and toothpaste tube outer packaging and floss containers.
Additionally, in monthly prize draws, schools will have the chance to win a pack of 90 upcycled pencil cases made from recycled toothpaste tubes – another example of how oral care waste can become a valuable new product.
Competition entry, rules and an interactive leaderboard can be found at www.terracycle.co.nz/colgategarden.