The new Master at the Howick Freemasons Lodge Barrie Griffiths takes up the office with fresh ideas to raise the profile of Freemasonry in the local community.
"Men who are wanting to maintain traditional values in a fast-changing world will find that opportunity in Freemasonry" says Griffiths, who is supporting the Freemason's national campaign to 'Speak Up for Freemasonry'.
'These days we don't hesitate to speak freely about who we are and what we do and we'll give a straight answer to any inquiry. Try us."
Griffiths grew up in South Wales but lived most of his life in England. He joined Freemasonry in the UK before emigrating to New Zealand in 2009 with his wife and two children now aged 14 and 11. They are residents of Cockle Bay.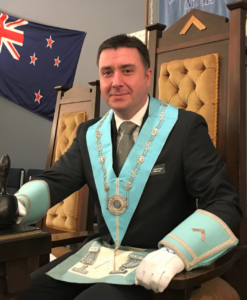 In computers his entire career, he was most recently with Watercare as IT security manager.
The lodge is already involved in many charitable endeavours and Griffiths wants to continue the support given locally to such organisations as Upside Downs Trust, Eastside Trust, the Blind Foundation, Camp Quality and Coastguard.
Griffiths becomes Master as the Lodge heads into its 75th anniversary in 2020.